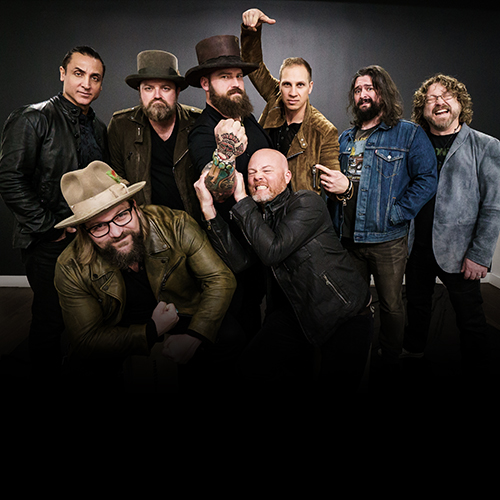 Multi-Platinum, Grammy award-winning Zac Brown Band have signed a new global licensing agreement with BMG to release their forthcoming studio album. The new material follows the groups' last studio effort, 2017's Welcome Home, and comes as the band is preparing to kick off the second leg of their successful "Down The Rabbit Hole Live Tour" this coming March as well as their recently announced – "The Owl Tour" in summer 2019.
Zac Brown, front man and lead vocalist, founded the group in 2002, leading it through its overwhelming success as both the primary songwriter and producer. Having long been lauded for their explosive live performances, the group's critically-acclaimed recording efforts include four studio albums, two live albums, a greatest hits collection, and an EP, having sold over a combined 30 million singles and nine million albums.
The upcoming release will be marketed through BMG and BMG's Nashville-based recordings business, BBR Music Group, through its Wheelhouse Records imprint.
"We've always approached our work and music in our own way, only doing what feels right for us," said Zac Brown. "We're excited to have BMG as a new partner, they understand our vision and sound and will help shape this next chapter in a way that's uniquely ours."
Thomas Scherer, EVP, Repertoire & Marketing, Los Angeles, said, "The entire team is thrilled Zac Brown Band has chosen BMG as their new home and we welcome them to our family. We look forward to working together, as both our BMG recorded music and Wheelhouse Records teams deliver this exceptional release to his eagerly awaiting fans around the world."
Jon Loba, EVP, BBR Music Group, said, "Zac Brown Band is a musical phenomenon. Not only are they world-class musicians who have achieved 15 Number One radio singles, they are one of the very few acts in any genre that can sell out stadiums. We have long admired Zac not only for his music, but his philanthropic efforts through his music."
In 2008, Zac Brown Band released their first widely distributed album The Foundation. Fueled by the success of the Number One single 'Chicken Fried' – a song now certified 6X Platinum itself – the breakthrough album would go on to garner a Grammy nomination for Best Country Album with the group being awarded the Grammy for Best New Artist. The now 5X Platinum-certified album would go on to yield three additional chart-topping singles, 'Toes', 'Highway 20 Ride', and 'Free'.
The follow up, 2010's You Get What You Give, debuted at Number One on the Billboard 200 and Country Albums charts. The Platinum-certified album once again charted four Number One singles, 'As She's Walking Away (ft. Alan Jackson)', 'Colder Weather', 'Knee Deep (ft. Jimmy Buffet)', and 'Keep Me In Mind'.
In 2012, the group released Uncaged, again debuting atop the Billboard 200 and Country Albums charts. Featuring the Number One singles 'Goodbye In Her Eyes' and 'Sweet Annie', the Platinum-selling album won Best Country Album at the 2013 Grammy Awards.
Jekyll + Hyde followed in 2015, debuting atop the Billboard 200 and Country Albums charts, marking their third consecutive Number One album. Gold-certified, the album racked up four Number One singles, 'Homegrown', 'Loving You Easy', 'Beautiful Drug', and the group's first Number One rock single 'Heavy Is The Head (ft. Chris Cornell)'.
Zac Brown Band is Zac Brown (lead vocals, guitar), Jimmy De Martini (fiddle, vocals), John Driskell Hopkins (guitar, vocals), Clay Cook (guitar, keys, vocals), Chris Fryar (drums), Coy Bowles (guitar, keys), Daniel de los Reyes (percussion), and Matt Mangano (bass).