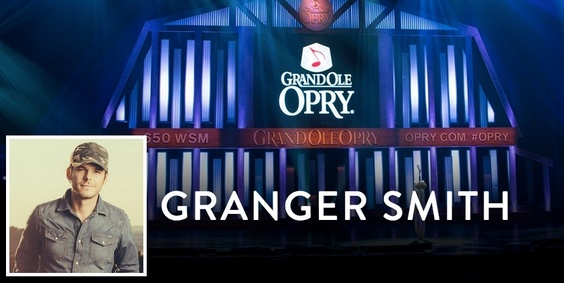 NASHVILLE, Tenn. (November 12, 2015) – The honors continue to roll in for songsmith Granger Smith as he is confirmed to make his official Grand Ole Opry debut, celebrating yet another milestone in his prolific career. One of today's fastest rising country stars, Granger is slated to deliver back-to-back performances at the legendary Ryman Auditorium also known as the "mother church" on Saturday, November 28, the exact date the Opry began 90 years ago in 1925.
"I grew up listening to Opry performances on the radio as a kid. It's an iconic stage with a rich history and represents everything I love about country music. I can't wait to walk amongst the greats and experience it first-hand for myself with family and friends around," explains Granger.
In addition to his Opry debut, Granger will take on another renowned Nashville stage, headlining a full-band show at 3rd & Lindsley on Saturday, November 20 as a stop on his national tour. Granger will have all his usual antics in tow, armed with his notorious alter ego, Earl Dibbles Jr., delivering his electrifying show, which has garnered widespread praise from fans and critics alike.
In the midst of these notable performances, Granger's "Backroad Song" continues to climb to new heights. The single, which Digital Journal dubs "a recipe for a smash," has made a bold introduction, cracking the Top 20 at Billboard and 22 at Mediabase in just five weeks. Granger continues to visit radio in support of the single between stops on his headlining national tour.
Media must RSVP to attend either performance. RSVP to: meg@npgpr.com
ABOUT GRANGER SMITH
Country music's Granger Smith is the flagship artist, along with Trace Adkins, of BBR Music Group's newest imprint, Wheelhouse Records. With sold-out national tours, a social media following of more than four million, and YouTube views exceeding 36 million, Granger Smith has amassed a rabid audience, while building a truly groundbreaking career. Granger's current EP, 4×4, is co-produced by Granger Smith and Frank Rogers (Brad Paisley, Darius Rucker and Josh Turner) and debuted at #6 on Billboard's Top Country Albums Chart. The lead single off the EP, "Backroad Song," sold over 32,000 downloads in its first week of release and entered the iTunes Country Singles chart at Number Two, the iTunes Canada Country Chart at Number One and the Billboard Country Digital Sales Chart at Number Four. "Backroad Song" has been among the most added and fastest rising singles at country radio since impact. Granger has been selected as iHeart Media's "On The Verge" artist, CBS Radio's "LAUNCH" program and COX Media's "Up Next" artist.His "YEE YEE NATION" national tour (84 shows) sold out and broke attendance records and merchandise sales records at nearly every venue. Granger's country boy alter-ego, Earl Dibbles Jr., has its own following and garnered him a weekly segment called "Dip 'Em and Pick 'Em" on CBS Sports Network's Inside College Football. Season three premiered in September.
For more information on Granger's tour and updates please visit:
www.facebook.com/EarlDibblesJr
# # #