WHAT A "HELL OF A NIGHT" FOR DUSTIN LYNCH WHO TOPS THE COUNTRY RADIO CHARTS THIS WEEK
Rising New Artist Earns Back-To-Back #1 Singles From Latest Album  WHERE IT'S AT
Rave Reviews Continue To Stack Up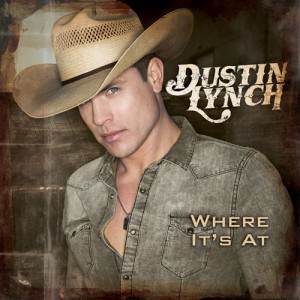 NASHVILLE, TN (September 8, 2015) – What a "Hell Of A Night" for Broken Bow Records' Dustin Lynch who tops both the Mediabase and Billboard Country Radio Airplay Charts this week. The heart-pounding "Hell Of A Night" marks his second consecutive #1 hit single from his latest album WHERE IT'S AT and is the follow-up to the PLATINUM-certified, multi-week #1 title track.
"Wow! Thank you to all my friends at Country radio. You have changed my life, my band's lives and our families' lives," shares Dustin Lynch. "Can't wait to celebrate two in a row with you the next time we are in town. Cheers!"
Sending thanks to radio, fans and his family, Lynch shared this video message: https://youtu.be/MTQ7w1Ib40M
In between dates on Luke Bryan's 2015 KICK THE DUST UP TOUR last week, Lynch brought "big grins, big beats" (Rolling Stone) to his debut performance on NBC's TODAY show (9/2) with "Hell Of A Night."
Rave reviews continue to stack up for the high-energy performer with Rolling Stone coining Lynch as Luke Bryan's "possible heir apparent" and Billboard naming him one of the "Young Guns" leading Country music's changing of the guard.
Keeping the momentum going, Lynch will embark on his headlining HELL OF A NIGHT TOUR, which kicks off in November. Boasting advance sellouts in select markets; the nationwide tour covers 35+ cities, including major stops in New York City, Boston, Houston and New Orleans, and features special guest Big Loud Records' Chris Lane.
Since releasing his PLATINUM debut single, "Cowboys And Angels," Lynch has catapulted onto the country music scene. Racking up over 35 million views on YouTube/VEVO, notching 70 million plus streams on Spotify, soaring to #1 on the MTV Music Meter and selling 2.7 million digital singles, he brings a fresh combination of traditional influences and edgy intensity to the genre. Producers Mickey Jack Cones, Brett Beavers and Luke Wooten showcase his progressive sound throughout his sophomore album, WHERE IT'S AT (Broken Bow Records), which debuted at #1 on the iTunes Country Albums Chart upon release, delivered the multi-week #1, PLATINUM-certified title track and has tallied over 1 million tracks sold to date.
For more information, visit DustinLynchMusic.com.
###