The Showing Raised Over $6k for The Isaiah 117 House – 
A Local Charity that Provides Children Awaiting Placement a Safe & Loving Home
Look Inside the Impactful Event HERE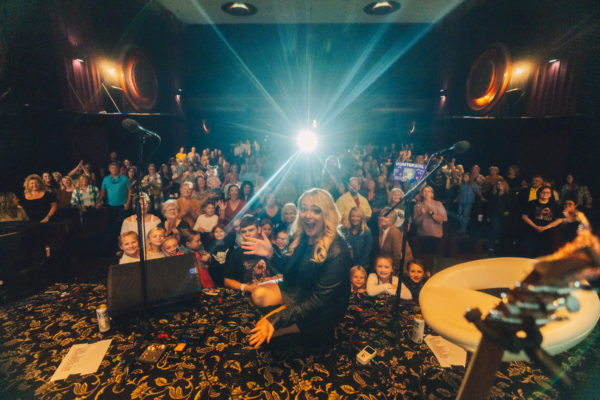 On Friday, September 29, American Idol runner-up and vocal powerhouse HunterGirl gave her hometown a special, private viewing of the heart-stirring official music video to her debut single "Ain't About You" at the Oldham Theater in Winchester, Tenn. Along with a private, acoustic performance, the sold-out event raised over $6,000 for the Isaiah 117 House, a local charity that provides foster children awaiting placement a loving and safe home.
As her musical hero Dolly Parton says, "Charity starts at home," HunterGirl lives her life constantly giving back to her community, ensuring her presence and music mean something and make a positive impact.
"The private viewing of my first official music video for my debut radio single, 'Ain't About You,' was a night I'll never forget," said HunterGirl. "I'm so thankful to my hometown for showing me so much love and support! I am happy to say that we raised over $6,000 for the Isaiah 117 House, and we are able to give back to the children in the community. Having the viewing at the Oldham Theater in Winchester, Tenn., was a full circle moment. Every Sunday night, they hosted American Idol watch parties and cheered me on throughout the competition. I will never forget how much their support pushed me to do my best, so I could make my hometown proud."
Impacting radio on October 23, HunterGirl was able to write the vulnerable "Ain't About You" completely by herself after her tenure of working with veterans' organizations where she uses music therapy to transform warrior's stories into songs. Watching their reactions to their life in songs, this allowed her to give in whole-heartedly to her emotions, writing the song with pure honesty, not worrying about fitting it into a certain mold.
Stay tuned, as the official music video for HunterGirl's already applauded powerful debut single "Ain't About You" will premiere publicly this November. Listen to the track HERE.
"Huntergirl 'peeled back her soul' and the song — a soulful tearjerker of a ballad questioning if 'tomorrow's the day those closed doors will open up' poured from her like water and wine." – Tennessean
"It's an inspiring anthem for anyone seeking their true calling, made even more powerful by the circumstances under which she wrote it." – Sweety High
"'Ain't About You,' is a product of this experience as it uncovers an authentic look into the power of prayer and patience in her personal journey." – Country Now
"The raw track is full of chilling conviction. The striking and painfully relatable lyrics truly fall out of the Tennessee girl in the most honest and humble of ways." – All Country News

"HunterGirl showcases exactly why America fell in love with her in this song." – Country Swag