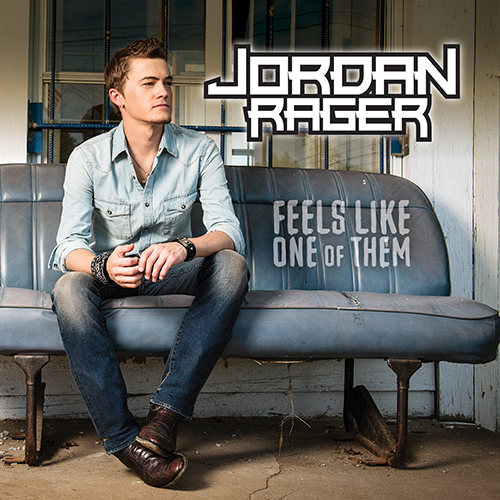 DEBUT SINGLE "FEELS LIKE ONE OF THEM" AVAILABLE AT ALL DIGITAL RETAILERS THIS FRIDAY, DECEMBER 18  
Taste of Country exclusively premiered the lyric video for Broken Bow Records artist Jordan Rager's highly-anticipated debut single, "Feels Like One Of Them" today. Rager – who has quickly climbed the ranks in the national touring scene performing alongside the likes of Justin Moore and Randy Houser – also stars in the video, which was shot in Lock One Park in East Nashville, TN. Watch the video HERE.
The rollicking, guitar driven track, serves as a personal narrative and an introduction of what's to come from the prolific rising star. He explains, "As a songwriter, I love hooks and clever twists, songs that grab you and make you feel something."
"Feels Like One Of Them" will hit all digital retailers and streaming services on Friday, December 18 and is impacting Country radio on January 25, 2016. 
ABOUT JORDAN RAGER:
Broken Bow Records recording artist and burgeoning Country act Jordan Rager has an impressive resume for only 21-years-old. The Loganville, GA native who seamlessly delivers a unique brand of "Young Country," made a splash touring with Country music heavyweights including Justin Moore (Off The Beaten Path Tour), Randy Houser, Josh Thompson, Kip Moore, Love & Theft, Craig Campbell, Rodney Atkins and David Alan Coe. He is a bona fide social media sensation boasting a YouTube fan-base of 26,000 subscribers and over 3.7 MILLION views. Rager's debut single for Broken Bow Records, "Feels Like One Of Them," hits all digital retailers on December 18 and will impact Country radio on January 25, 2016. He is currently in the studio with celebrated producer Jeremy Stover (Justin Moore, Jack Ingram) working on his full-length album debut. For more information visit: www.jordanrager.com
JORDAN RAGER SOCIAL MEDIA HANDLES:
#          #          #