POWERHOUSE KICKS OFF LAUNCH WITH STAR-STUDDED RELEASE PARTIES AND GOOD MORNING AMERICA PERFORMANCE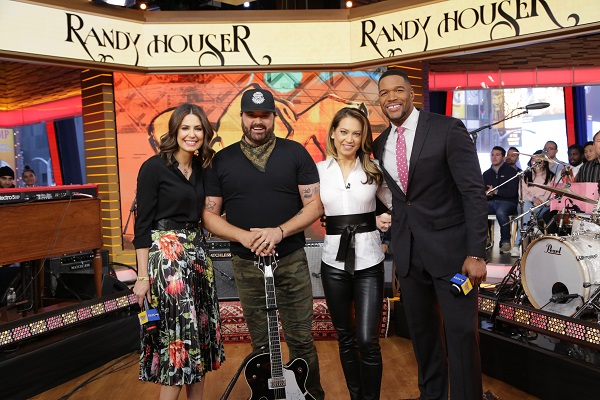 In honor of the release of his brand-new album Magnolia (released today) via Stoney Creek Records / BBR Music Group, Randy Houser gave fans the first televised glimpse of his rootsy new project this morning on Good Morning America. Houser performed his favorite song from the album, "No Stone Unturned," on the 8AM hour. Catch the performance here.
Kicking off a busy launch for the hotly-anticipated album, Houser gathered some of his buddies/collaborators to perform the album in its entirety Monday night in Nashville. Joining him at his Blue Room performance was Jamey Johnson, Hillary Lindsey, Jessi Alexander, Jaren Johnston, and more. Houser then traveled to Los Angeles to play at his iHeartCountry Album Release Party on Wednesday night. Hosted by his good friend, Big Bang Theory's Johnny Galecki (who even played percussion on "No Stone Unturned" during the show), the party featured a chat between the two stars as well as live performances of Magnolia songs as well as several of Randy's previous hits. The show will broadcast across Mainstream Country stations at 8PM local time on Monday (1/14) and on the digital station iHeartCountry Radio at 8PM ET.
Magnolia began as a passion project to become Houser's most authentic project to date. For nearly two years, Houser hunkered down in a backyard studio in East Nashville investing all of his energy into his songwriting, artistry and his guitarwork. The result is a gritty, swampy, expressive and un-polished new sound that is elevated only by his thick, commanding vocals (that earned him four #1 hits, a slew of award nominations and critical acclaim). With heavy influence from the blue-collar life of his native Mississippi and Randy's new season of life, Magnolia is a new take on vintage Houser.
Fans got a preview of the album via NPR Music's First Listen last week and will be able to hear live recordings of the project and Randy's take on the music on Sirius XM's channel #61 beginning today. The program, Randy Houser: "Magnolia" from the SXM Music City Theater, will air on January 11 (2pm-3pm CT), January 12 (7pm-8pm CT), January 13 (11am-12pm CT and 11pm – 12am CT), January 15 (10am-11am CT) and January 16 (3pm-4pm CT). Continuing his busy street week, which includes stops in New York City, Dallas, Houston, New York City (again) and Baltimore, Houser is set to perform on NASH FM on Tuesday afternoon (January 15), tune into the Afternoon Drive at 5PM ET to hear it live.
Early praise for Magnolia:
"It's a showstopper that puts Houser's career on a whole new level, a sign that his artistry is now more important than success."—Newsday
"Houser imagines and inhabits a blue-collar, tortured soul character with some of the most expressive performances of his career… He's in his element, and truly going for it" –NPR
"The singer proves his staying power with the versatile Magnolia… With hints of Mississippi blues and distinct country swagger, Magnolia further cements why Houser is deemed one of country music's most esteemed vocalists." – Sounds Like Nashville
"Many of the heavy riffs are excised or played acoustically, making room for rich, Seventies-sounding keyboards, and the drums are often so soft they wouldn't alarm your neighbors. This has the advantage of making Houser, who has an arena-swallowing voice, seem that much bigger." – Rolling Stone
"The project heralds a return to Houser's traditional country and blues style and is a nod to his Mississippi roots, down to the album title." – Billboard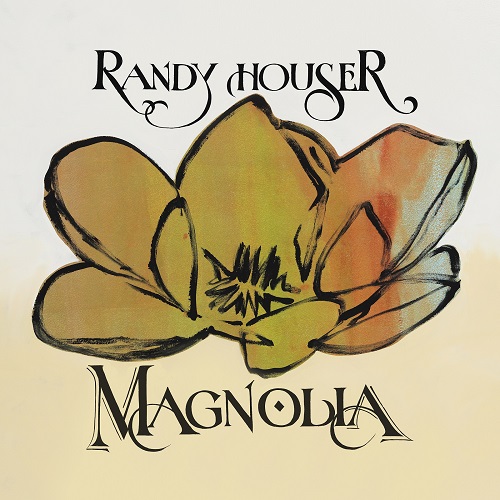 TRACK LISTING:
"No Stone Unturned" (Randy Houser, Dallas Davidson)
"Our Hearts (feat. Lucie Silvas)" (Randy Houser, Kylie Sackley, Rob Hatch)
"What Whiskey Does (feat. Hillary Lindsey)" (Randy Houser, Keith Gattis, Hillary Lindsey)
"Whole Lotta Quit" (Randy Houser, Travis Meadows)
"No Good Place to Cry" (Randy Houser, Gary Nicholson)
"New Buzz" (Randy Houser, Keith Gattis, Jeff Trott)
"Nothin' On You" (Randy Houser, Jaren Johnston, Tony Lane)
"What Leaving Looks Like" (Randy Houser, John Osborne, James Otto)
"High Time" (Randy Houser, Brice Long)
"Mama Don't Know" (Randy Houser, Jaren Johnston, Tony Lane)
 "Running Man" (Randy Houser, Jeffrey Steele)
"Evangeline" (Randy Houser, James Otto )
In conjunction with the album, Houser is also creating a film of the same name which embodies the sentiment of the album's lyrics. The film will feature several live acoustic performances by Houser himself (who also serves as executive producer for the project), several of the videos have been released including "No Stone Unturned," "No Good Place to Cry," the lead single off the album, "What Whiskey Does." See the trailer for Magnolia here. Additional details about the Mississippi-inspired film will be announced in the coming weeks.
For additional information, please visit www.randyhouser.com.