RANDY HOUSER SETS HIS SIGHTS ON ARENAS FOR FALL HEADLINING TOUR
The We Went Tour featuring Frankie Ballard and special guest Craig Campbell kicks off in mid-November; first round of dates announced today, August 12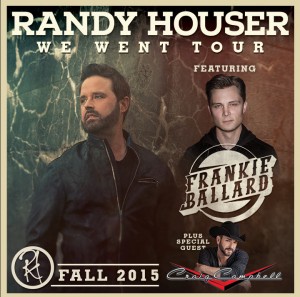 With his inimitably "rich, purling baritone" (The Washington Post) Randy Houser has earned a reputation as "one of Nashville's best voices around" (American Songwriter), but those who have experienced his show for themselves know just how powerful Houser's voice is live, in-person. The four-time Platinum selling, three-time chart-topping CMA/ACM award nominee and his band have logged thousands of miles on the road, and this fall they will set out for Houser's We Went Tour, playing arenas across the country accompanied by Frankie Ballard and special guest Craig Campbell.
"We've had a blast touring with Luke [Bryan] this summer, and it's been an incredible opportunity to play to some people we might not have played to before," said Houser. "We're really looking forward to building our show this fall, playing the arenas and getting to play some new music. Frankie and Craig are both great performers, and we're ready to get out there and show people what we're all about!"
Houser has received rave reviews while on the Kick The Dust Up Tour with Bryan, playing to arenas and stadiums across the country. During his performance at Nashville's Nissan Stadium, the Boston Globe touted that "the big-voiced and big-hearted Houser is always a treat, but he pulled off one of the most intimate moments seen at the stadium level" and praised him for "reminding everyone in attendance that all you need is a good song and a heartfelt performance to create a powerful and enduring musical moment."
Fans can expect a little bit of everything on the We Went Tour, as Houser draws from a deep catalogue of songs, from fan favorites like "Boots On" and "Whistlin' Dixie" to smash hits such as "How Country Feels," "Runnin' Outta Moonlight" and "Like A Cowboy." He will also perform new music from his forthcoming Stoney Creek Records album, including his current single, "We Went." With skilled guitar-slinger Frankie Ballard — who has two No. 1 hits of his own with "Helluva Life" and "Sunshine & Whiskey" and a Top 5-and-climbing single on the charts with "Young & Crazy" — and the energetic Craig Campbell ("Outta My Head," "Keep Them Kisses Comin'") rounding out the bill, the We Went Tour will launch in full force in mid-November.
The first dates to be announced for the We Went Tour are as follows, with more shows and ticketing information to be revealed in the coming weeks:
Friday, Nov. 20 – The Arena – Corbin, Ky.
Saturday, Nov. 21 – Hobart Arena – Troy, Ohio
Friday, Nov. 27 – Dow Events Center – Saginaw, Mich.
Saturday, Nov. 28 – Old National Events Plaza – Evansville, Ind.
Friday, Dec. 4 – La Crosse Center Arena – La Crosse, Wis.
Saturday, Dec. 12 – Choctaw Events Center – Durant, Okla.
Thursday, Dec. 17 – The Rave – Milwaukee, Wis.
Friday, Dec. 18 – Akron Civic Center – Akron, Ohio
About Randy Houser
With an inimitable voice the New York Times describes as "wholly different, thicker and more throbbing, a caldron bubbling over," Randy Houser racked up three consecutive No. 1 hits and more than four million in singles sales to date with his Stoney Creek Records album, How Country Feels. He topped the charts with the title track, "Runnin' Outta Moonlight" and "Goodnight Kiss" (also his first No. 1 as a songwriter) and earned critical acclaim for his powerful delivery of the Top 5 smash, "Like A Cowboy." Houser's new single, "We Went," is available at country radio and digital retailers now, with a new album forthcoming. He is currently touring with Luke Bryan on the Kick The Dust Up Tour and will launch his headlining We Went Tour this fall. For more information, visit RandyHouser.com or follow on Twitter @RandyHouser and Facebook.com/RandyHouser.
About Frankie Ballard
Talented singer-guitarist Frankie Ballard, hailed by ROLLING STONE as "required listening," is on the rise with his current Warner Bros. Records album SUNSHINE & WHISKEY. The album delivered consecutive No. 1, GOLD-certified smashes "Helluva Life" and "Sunshine & Whiskey," the current Top 5-and-rising hit "Young & Crazy" and debuted Top 5 on the Billboard Country Albums Chart. Moving to Nashville in 2009 from Battle Creek, Michigan, to pursue music, Ballard drew on his working class values, performing every chance he could and honing his guitar and songwriting skills to create a unique blend of blues-infused country rock. He steadily built a loyal fan base and took the time to grow as an artist and an individual, experiences that culminated in selling more than 1.7 million tracks to date and racking up over 72 million total streams. Playing over 400 shows across North America in the past two years, the "headliner in the making" (ROLLING STONE) is currently on Florida Georgia Line's 2015 ANYTHING GOES Tour and previously opened for Jake Owen, Rascal Flatts, Kenny Chesney, Taylor Swift and longtime idol Bob Seger. frankieballard.com
About Craig Campbell
Craig Campbell launched on to the Country music scene with the release of his self-titled debut album (2011) delivering his Top 15 breakout debut "Family Man," top-selling fan-favorite "Fish," and hit "When I Get It." To date, he has logged four consecutive charted hits with over a billion radio airplay audience impressions and over a half million downloads. Praised as one of the genre's most neo-traditionalist singers, his new envelope-pushing single "Tomorrow Tonight" is quickly climbing the Country radio charts and follows his first Top 10 smash "Keep Them Kisses Comin'." Produced by Jeremy Stover (Justin Moore) and co-written by Campbell, the temperature-rasing song is the lead track for his third studio album – and forthcoming debut project – on RED BOW Records. Music Row Magazine applauds, "He soars vocally on this one. Supporting harmony singing and screaming guitars adds to the undeniable excitement." The gifted songwriter co-wrote Garth Brooks "All American Kid" featured on the album MAN AGAINST THE MACHINE and recently signed to Magic Mustang Music for publishing. This summer, Campbell has been hitting the road playing major festivals, headline club dates as well as regular appearances on the Grand Ole Opry. The Lyons, GA native was first discovered while playing a regular gig at the Nashville's honky-tonk The Stage and spent time on the road playing keyboard for both Tracy Byrd and Luke Bryan. craigcampbell.tv
# # #