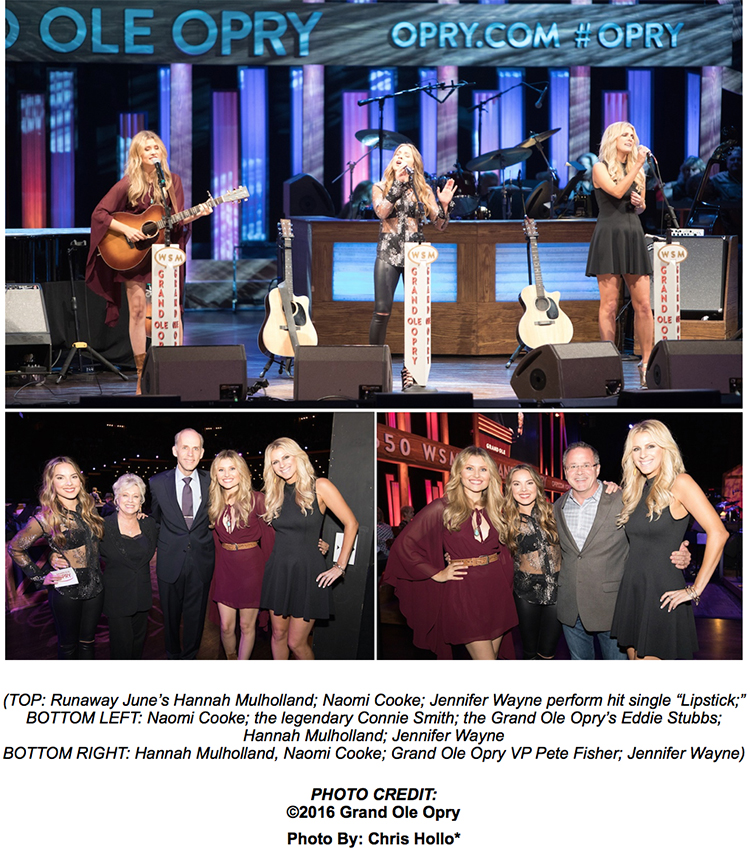 Nashville, TN (October 19, 2016) ~ On Friday night (10/14) the ladies of red hot Wheelhouse Records act Runaway June showed a packed Grand Ole Opry House exactly why tastemaker Perez Hilton has declared "this trio of beauties will harmonize their way into your hearts."
The hit-making trio – comprised of Naomi Cooke (lead vocals, guitar); Hannah Mulholland (vocals; mandolin; and Jennifer Wayne (vocals; guitar) – performed their debut single "Lipstick" as well as heart-wrenching ballad "Blue Roses" to uproarious applause, standing ovations and a handwritten congratulatory note from the legendary Connie Smith who introduced Runaway June to the full house.
"It was everything that I thought it would be," Cooke told CMT.com moments after Runaway June's debut performance. "I just closed my eyes and I could just hear our harmonies in the song and [we were] just living in the Opry."
Lauded by Billboard as the "Next Hot Trend in Country Music" and likened to a 'Dixie Chicks for a new generation,' Runaway June's organic three-part harmonies and ringing strings are sweeping the nation, leaving a mark on one infatuated audience after another with its "inescapable talent" (AXS.com).
Produced by Mickey Jack Cones (Dustin Lynch, Joe Nichols), the sassy and swaggering "Lipstick" is a Top 40 hit and rising – making Runaway June the first female trio in a DECADE to earn a Top 40 hit on the Mediabase Country Airplay Chart.
ABOUT RUNAWAY JUNE:
BBR Music Group/ Wheelhouse Records act Runaway June is a new female act consisting of the vocal stylings and musicianship of Naomi Cooke, Hannah Mulholland and Jennifer Wayne. The troubadour-hearted trio is receiving early rave critical notices from the likes of Billboard, Nash Country Daily, Perez Hilton, Rolling Stone Country, Sounds Like Nashville, The Morning Hangover, WhiskeyRiff and more for its brand of organic and melodic country music and have been likened to a "Dixie Chicks for a new generation." Runaway June's debut single "Lipstick" impacted as a Top 5 most added single at U.S. Country Radio and continues its ascent beyond the Top 40. For more information and tour dates, visit:  www.RunawayJune.com
# # #
*Opry images are provided gratis for journalistic use for one year from date of release in conjunction with coverage pertaining to the event of the photo.  All other uses require express written permission from Grand Ole Opry, LLC.