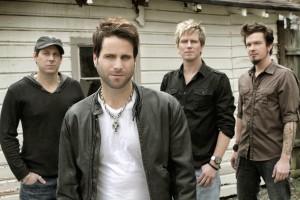 PARMALEE'S CAREER COMES FULL-CIRCLE WITH UPCOMING NBC's TODAY SHOW DEBUT
CHART-TOPPING STONEY CREEK RECORDS GROUP PERFORMS LATEST HIT "ALREADY CALLIN' YOU MINE" Tuesday, September 8th
(NASHVILLE, TN)  — Stoney Creek Records act Parmalee is set to perform its latest hit "Already Callin' You Mine" on NBC's TODAY Show on Tuesday, September 8th. The performance will mark the chart-topping group's inaugural appearance on one of America's leading morning shows and the timing couldn't be more full-circle for Country music's 'band of brothers.'
This September will mark the five-year anniversary of the armed robbery that nearly ended Parmalee's music career and altered the band's lives forever. On the eve of signing its first major label deal Parmalee  — brothers Matt and Scott Thomas; cousin Barry Knox; and friend Josh McSwain — performed one last string of shows in order to fund its way back to Nashville. After performing in Rock Hill, SC, two assailants attempted to rob Parmalee's RV at gunpoint, leaving drummer Scott Thomas shot three times and fighting for his life. The band pulled together to help nurse Thomas back to health. Four surgeries and months of rehabilitation later, Parmalee finally made its way back to Nashville to sign its record deal.
"It's crazy to sit back and think about what we've been through to where we are now," says Parmalee lead singer Matt Thomas. "Parmalee has come a long way  – not only from that night – but also from the days of working as loggers, furniture re-possessors and pizza makers just so we could support our band. Now we are about to perform on the TODAY show. It's just unreal. We are so grateful to be here."
ABOUT PARMALEE
Top 25 and rising "Already Callin' You Mine" is the third consecutive hit off Parmalee's debut Stoney Creek Records album, FEELS LIKE CAROLINA. Recent hits include the Top 3 "Close Your Eyes" and the multi-week #1 smash "Carolina." Parmalee has earned 236 million Pandora streams, 29 million plays on Spotify, over 14.8 million YouTube/ VEVO views and 1.5 million singles sold. In 2014, Parmalee earned a Teen Choice Award nomination for "Choice Country Group," a semi-finalist nomination for ACM "New Artist of the Year" and was lauded one of "Country Music's Breakout Stars Of 2014" by MSN Entertainment. The band has supported Brad Paisley and Jake Owen on national tours while finding time to perform on The Late Late Show w/ Craig Ferguson, FOX & Friends All American Summer Concert Series, The Queen Latifah Show, WGN Midday and more.
For more information, visit: http://www.parmalee.com
Download FEELS LIKE CAROLINA here:  http://geni.us/FeelsLikeCarolina
Parmalee Social Media Links:
https://www.facebook.com/parmaleemusic
http://instagram.com/parmaleemusic
#         #         #