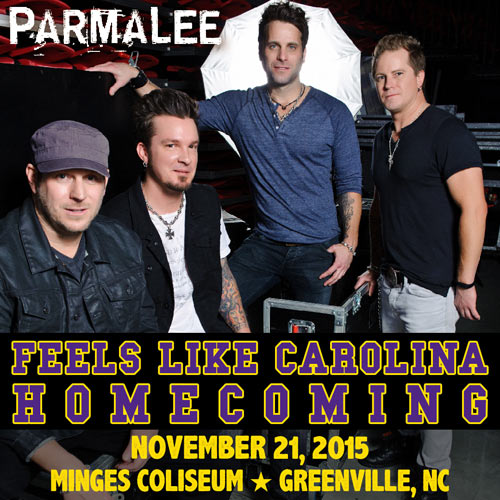 Parmalee Returns To Alma Mater East Carolina University To Headline Feels Like Carolina Homecoming On Saturday, November 21
#PARMALEEHOMECOMING
Special Guest Wheelhouse Records' Granger Smith To Open
Greenville, NC (September 18, 2015)~ This holiday season, Parmalee will return to its roots to throw its biggest party to-date, the FEELS LIKE CAROLINA HOMECOMING, on the grounds of its alma mater East Carolina University's 8,000-seat Minges Coliseum. The headlining arena show will pay homage to Parmalee's home state of North Carolina and the community that supported the band since it started in 2001.
"It has been a life-long dream of ours to play Minges Coliseum! What a homecoming!" says Matt Thomas, lead singer for Parmalee. "We would always throw a big field party towards the end of summer that we called 'Uncle Ron's Party.' Eventually, those got too big for us to handle so we've been working on a way to keep it going, and here we are!"
Tickets for FEELS LIKE CAROLINA HOMECOMING are officially on sale to the public today. Additionally, a limited number of 300 VIP tickets to the show are available for purchase on a first come, first serve basis. The VIP tickets give fans a choice of a premium purple reserved seat (in honor of ECU's school colors) OR a VIP Pit Pass for the concert. VIP tickets also include access to an exclusive pre-show VIP Party with a private acoustic performance by Parmalee, an official event t-shirt, a meet-n-greet pass/photo opportunity with the band, a commemorative VIP Laminate and VIP Event Parking.
BBR Music Group's newly signed Wheelhouse Records act and digital media sensation Granger Smith has been announced as the first opening act for the FEELS LIKE CAROLINA HOMECOMING show.
Purchase tickets for the FEELS LIKE CAROLINA HOMECOMING now at: http://ecutickets.net/2015/09/14/parmalee-2/
Last week, Parmalee celebrated its steadfast climb to success with a performance of its current Top 25 single "Already Callin' You Mine" on NBC's TODAY show and MLB Central's Studio 21. The band's debut multi-week #1 smash "Carolina" was recently CERTIFIED PLATINUM by the RIAA.
Parmalee recently spoke with FOX 411 Country's Ashley Dvorkin about its hometown community and how the band's friends and fans lifted them up in the wake of the tragic shooting that nearly took Scott Thomas' life, five years ago this month. Watch the interview here: http://video.foxnews.com/v/4487032815001/parmalee-gaining-popularity/?#sp=show-clips
For more information on the FEELS LIKE CAROLINA HOMECOMING, visit: http://www.parmalee.com/feels-like-carolina-homecoming/
###