PARADE MAGAZINE GIVES FANS EXCLUSIVE ACCESS
TO PARMALEE'S FEELS LIKE CAROLINA HOMECOMING SHOW
NORTH CAROLINA BAND RETURNS HOME
TO PERFORM FOR THOUSANDS
AT ALMA MATER EAST CAROLINA UNIVERSITY
Local News Coverage Circulates
Recounting Parmalee's Miraculous Story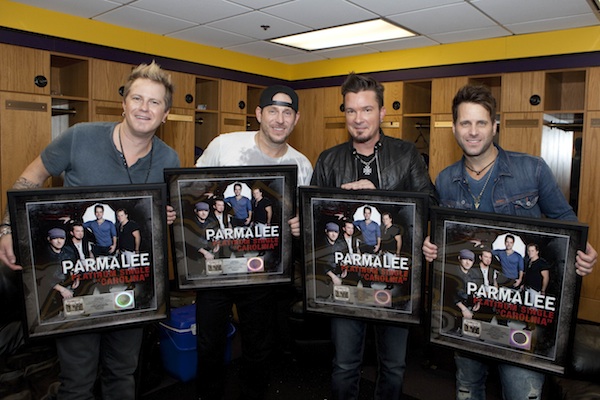 Pictured L to R: Barry Knox (bassist); Scott Thomas (drummer); Josh McSwain (lead guitar); Matt Thomas (lead singer)
Photo credit: Joe Hardwick
(Nashville, TN—November 30, 2015)—On Saturday, November 21, "Carolina" chart-toppers Parmalee realized its dream of headlining Minges Coliseum on the campus of its alma mater, East Carolina University.
The band performed a combination of new and old music, including current Top 15 single "Already Callin' You Mine" and multi-week certified PLATINUM smash "Carolina," paying tribute to the thousands of fans, family members and friends who have supported them since the birth of Parmalee in 2001.
Last week, Parade Magazine revealed an exclusive behind-the-scenes photo gallery documenting the evening featured on its digital platform, Parade.com.
"It was amazing. It was everything we hoped it would be," lead singer Matt Thomas tells Parade.com. "It was something we've always worked for, and a lot of work went into it. We never thought or knew when it was gonna happen. I mean when we came on stage and saw the people…The crowd was great and it was a great turnout."
Check out the exclusive Feels Like Carolina Homecoming photos now on Parade.com.
Following a powerful video montage recounting the band's remarkable story, Parmalee hit the stage, exploding into its rocking show opener "I'll Bring The Music."
Later in the show, the band was presented with honorary "Parmalee" ECU Pirates football jerseys and plaques celebrating its recently RIAA CERTIFIED-PLATINUM hit "Carolina." The night came to an emotional close with a performance of "Carolina" as Parmalee's hometown sang the chorus back to them, turning the entire arena into a "Carolina Choir" of thousands.
Local CBS affiliate, WNCT-TV Greenville, retold the Parmalee story featuring intimate interviews with the band members and their families in a two-part segment following the event. Watch the full segment HERE.
ABOUT PARMALEE:
Top 15 and rising "Already Callin' You Mine" is the third consecutive hit off Parmalee's debut Stoney Creek Records album, FEELS LIKE CAROLINA. Recent hits include the Top 5 "Close Your Eyes" and the multi-week #1 smash "Carolina." Parmalee has earned 236 million Pandora streams, 29 million plays on Spotify, over 14.8 million YouTube/ VEVO views and 1.5 million singles sold. In 2014, Parmalee earned a Teen Choice Award nomination for "Choice Country Group," a semi-finalist nomination for ACM "New Artist of the Year" and was lauded one of "Country Music's Breakout Stars Of 2014" by MSN Entertainment. The band has supported Brad Paisley and Jake Owen on national tours while finding time to perform on The Late Late Show w/ Craig Ferguson, FOX & Friends, The Queen Latifah Show, WGN Midday and more.
Download FEELS LIKE CAROLINA on iTunes here: http://geni.us/FeelsLikeCarolina
For more information on Parmalee, please visit: www.parmalee.com
Parmalee Social Media Links:
https://www.facebook.com/parmaleemusic
https://twitter.com/parmalee
http://instagram.com/parmaleemusic