Grammy-Winning Recording Artist Serenades Newlyweds With Theme Song For
TLC's SAY YES TO THE DRESS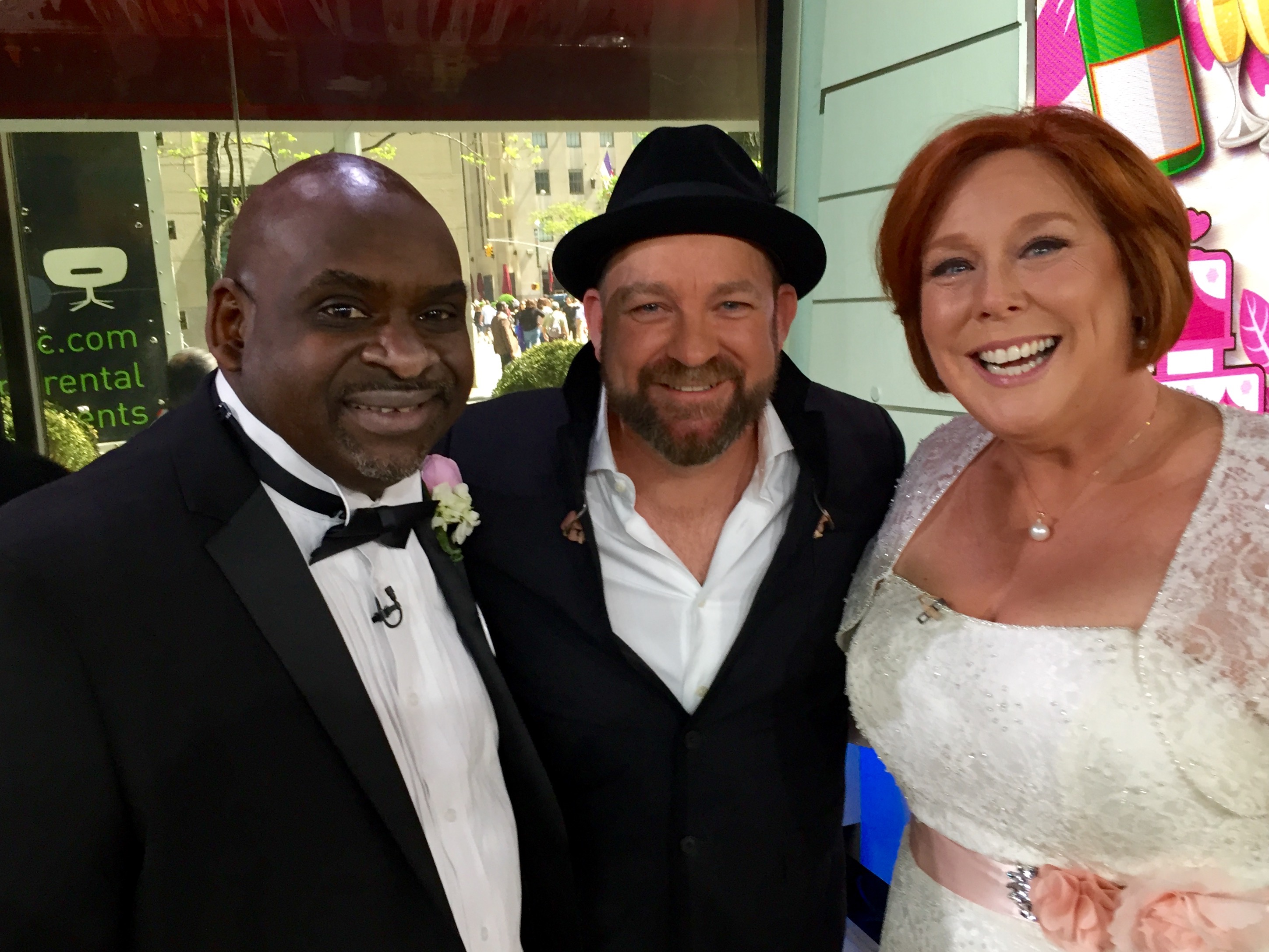 Pictured (L-R): Lane Stowe, Kristian Bush and Jenn Mendez Stowe  
Photo Credit: Courtesy of Kristian Bush
NASHVILLE, TN (May 13, 2016) – GRAMMY Award-winning recording artist Kristian Bush of Sugarland took wedding singing to another level with a performance of his love song "Forever Now (Say Yes)" – the theme for TLC's hit TV series SAY YES TO THE DRESS – on NBC's TODAY during their live wedding special yesterday (5/12). Bush happily serenaded the newlyweds for their first dance as husband and wife as wedding guests and hosts Kathie Lee Gifford and Hoda Kotb cheered them on and danced in the wings. Bush was also in the crowd for the touching ceremony, and joined the party for a final champagne toast to close the show.
In case you missed it, watch the performance here: http://www.today.com/video/kristian-bush-serenades-today-newlyweds-with-forever-now-684438595568
The wedding bells continue to ring as Bush will make a special guest cameo appearance on SAY YES TO THE DRESS tonight, Friday (5/13) at 9/8:00 PM CT to help his guitar tech's fiancée, classic country girl Evyn, find the perfect dress. Yesterday (5/12), ETonline.com gave fans an exclusive sneak peek at the episode. Bush's first trip to Kleinfeld and an inside look at the magic of wedding dress shopping inspired him to write "Forever Now (Say Yes)."
ABOUT KRISTIAN BUSH:
GRAMMY-winning recording artist Kristian Bush has been leaving his mark on music for more than two decades. The singer, songwriter, producer and multi-instrumentalist started his career with folk-rock duo Billy Pilgrim in the early '90s; in 2004, he exploded onto the country music scene with Sugarland, surpassing sales of over 22 million albums worldwide, achieving five No. 1 singles and winning numerous awards, including GRAMMYs, AMAs, ACMs, CMT Music Awards and CMAs. In 2014, Bush made his solo debut with Top 20 hit "Trailer Hitch," featured on his critically-acclaimed album SOUTHERN GRAVITY, which Country Weekly called "the feel-good album of the year." He recently wrote and performed "Forever Now," the theme song to TLC's hit reality series SAY YES TO THE DRESS, and his songs will anchor the world premiere of TROUBADOUR, a play set in 1950s Nashville, debuting at Atlanta's Alliance Theatre Center in 2017.
For more information, visit www.kristianbush.com
"Forever Now (Say Yes)" is available via http://geni.us/ForeverNowSayYes
SAY YES TO THE DRESS is produced by Half Yard Productions for TLC.