JASON ALDEAN CELEBRATES THREE BACK-TO-BACK HITS OFF OLD BOOTS, NEW DIRT WITH PROGRESSIVE NO. ONE PARTY
NASHVILLE, TN – August 12, 2015 – RIAA's top digital country male artist of all time Jason Aldean celebrated the success of his recent three consecutive No. One hits, "Burnin' It Down," "Just Gettin' Started" and "Tonight Looks Good On You," off of his PLATINUM record OLD BOOTS, NEW DIRT yesterday (8/11). Friends and family packed Nashville's City Winery for a progressive party, which moved throughout the venue to celebrate each song.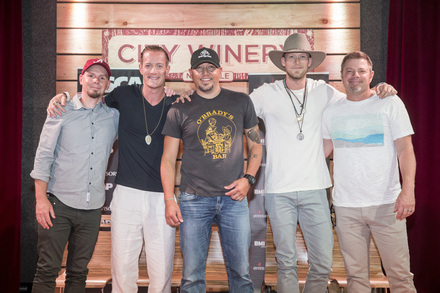 First, Aldean was joined by fellow country superstars Brian Kelley and Tyler Hubbard of Florida Georgia Line and their co-writers Chris Tompkins (ASCAP) and Rodney Clawson (BMI) to celebrate the PLATINUM album's lead single "Burnin' It Down."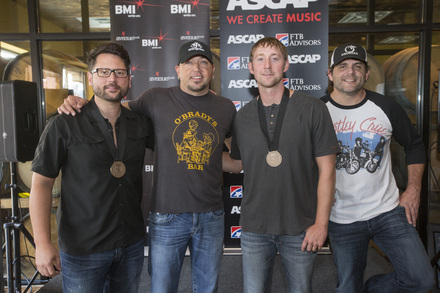 Next up, the party moved to City Winery's main dining room where the three-time and reigning ACM "Male Vocalist of the Year" was recognized for the chart-topper "Just Gettin' Started," with songwriters Chris DeStefano (ASCAP), Ashley Gorley (ASCAP) and BMI's Rhett Akins.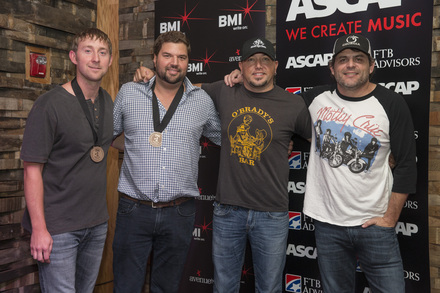 Closing out the evening in the upstairs loft, Aldean, BMI's Rhett Akins and Dallas Davidson, along with ASCAP's Ashley Gorley were each awarded for the chart-topping success of "Tonight Looks Good On You." The hit serves as Jason's 16th career No. One single.
Following the recent celebration, Jason Aldean will continue to blaze through the Northeast this week with his BURN IT DOWN TOUR, which just surpassed two million in ticket sales. Upcoming tour stops include Darien Center, NY (8/13), the inaugural Delaware Junction in Harrington, DE (8/14) and MetLife Stadium in East Rutherford, NJ (8/15). For more information and a full list of tour dates visit www.jasonaldean.com.
Photo Credit: John Russell
###