JASON ALDEAN "KICKS IT UP A NOTCH"
WITH THEY DON'T KNOW, SHARES PLANS
FOR  NATIONAL TELEVISION STOPS,
SOLD-OUT STADIUM SHOWS AND FAN EVENTS
SUPPORTING TOMORROW'S RELEASE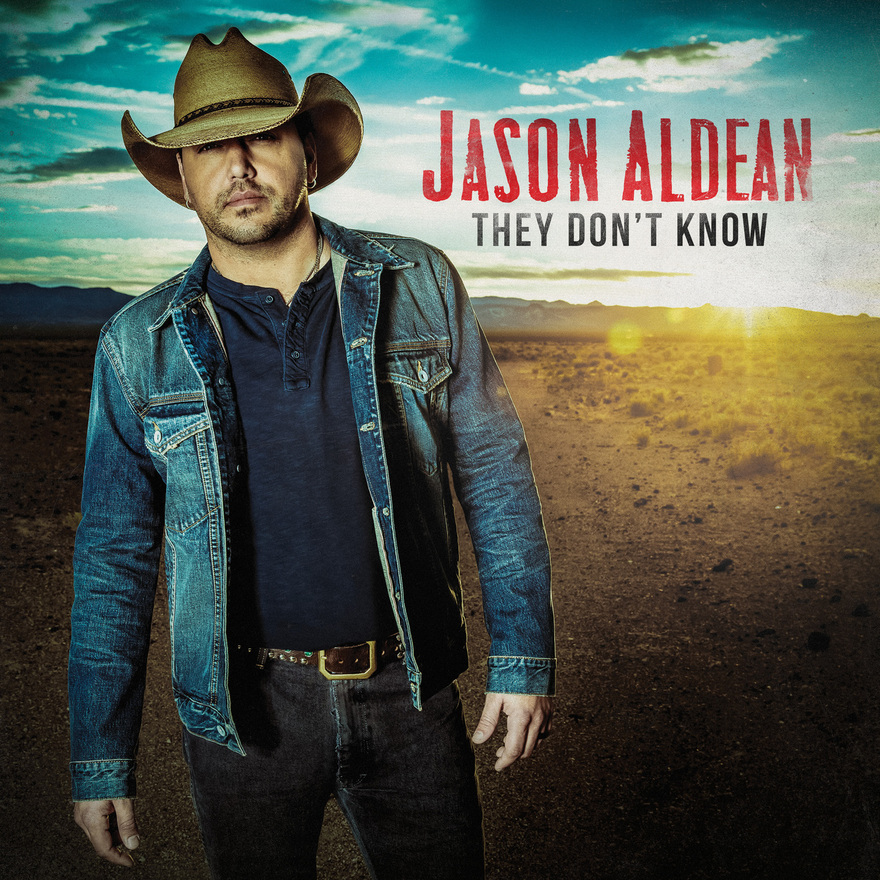 Aldean To Premiere Music Video for "A Little More Summertime" Tomorrow Exclusively on VEVO
NASHVILLE, TN – Sep. 08, 2016 – "Touring and radio giant" (Rolling Stone) Jason Aldean reveals details today surrounding the release of his seventh studio album, THEY DON'T KNOW (Broken Bow Records) out tomorrow, Sept. 9. With national television performances, stadium shows, intimate radio performances and more fan surprises on Facebook Live in the lineup, RIAA's top digital Country male artist of all time will kick things off in New York City today for the album's release.
First, Aldean will offer fans a rare intimate performance and Q&A tonight Live from the iHeartRadio Theater NY (iHeartRadio stations broadcast 8P local time, 9/8). For release day, the "stadium Country superstar" (The Guardian) will return to Boston's Fenway Park, where he initially made his mark as the first Country artist to play the iconic stadium in 2013. His sold-out 2016 SIX STRING CIRCUS TOUR stop at the home of the Red Sox with special guest Kid Rock is the first of a two-night stint (9/9 & 9/10). Fans across the country will be able to celebrate with the debut of the music video for his new single "A Little More Summertime" on VEVO while the momentum will continue throughout the day, as the multi-Platinum entertainer is set to perform some of his greatest hits and receive the coveted ACM Triple Crown Award during Friday night's 10th Annual ACM Honors (CBS at 9P ET on 9/9). 
After this weekend's tour dates, Aldean will strip things back for an acoustic Pandora Session launching Monday (9/12). He will return to The Big Apple to appear on Good Morning America (ABC at 8:30A ET on 9/13), where he'll discuss the new music and offer behind-the-scenes look at the weekend's stadium shows, before performing his new single "A Little More Summertime" on The Tonight Show Starring Jimmy Fallon (9/13 at 11:35P ET on NBC).
THEY DON'T KNOW has already garnered praise from critics ahead of its release, finding "the Nashville superstar refining what he does best—muscular, guitar-heavy jams and ballads filled with yearning, both delivered with down-home directness. But there's no question he kicks it up a notch here" (Hits Daily Double).
"Songs unfold over landscapes of place, time and memory. Vivid images streaming through singable melodies and strong instrumental hooks are the essence of Aldean." – USA Today
"Packed with stadium-size songs and arena-ready hooks, 'They Don't Know' is a collection of disarmingly affable party anthems that balance Middle American imagery and contemporary relationship concerns." – The Boston Globe
"Jason Aldean works back to his core sound with THEY DON'T KNOW." – Billboard
"Country's reigning Entertainer of the Year shows why he holds the title…it's a pure pleasure to hear him hammer out of the park these well-crafted stories of near-relationships and workin'-for-the-weekend folks" – Newsday
"A throwback to the early music that helped catapult Aldean into the spotlight more than a decade ago" – Forbes
"Classic Aldean: hard-rocking, gritty, more soulful than contemporaries, but no less fun." – Hartford Courant
Teaming up with longtime producer Michael Knox on THEY DON'T KNOW along with the same band on-and-off stage, the new music follows 17 No. One hits at Country radio. Aldean has "never been afraid to let his diverse musical interests influence his sound" (The Oklahoman) as each album released has earned PLATINUM or better tallying more than 14 million album sales. His SIX STRING CIRCUS TOUR continues to "live up to his hype and record success" (Kansas City Star) as it continues to host sold-out crowds. For more information on new music and for a full list of upcoming tour dates, visit www.jasonaldean.com.