JASON ALDEAN STAMPS WE WERE HERE 2016 TOUR WITH LAUNCH OF NEW MUSIC VIDEO
"Gonna Know We Were Here" Music Video Takes Aldean Back to his Hometown and Premieres Today Exclusively On Yahoo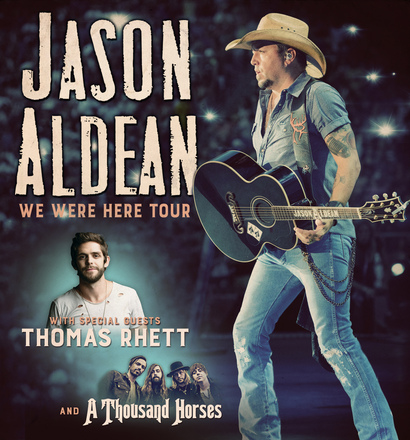 Nashville, TN – Oct. 16, 2015 – RIAA's top digital country male artist of all time Jason Aldean will launch his WE WERE HERE 2016 TOUR on Jan. 15 following a monumental run that sold over two million tickets and hosted capacity crowds at the nation's biggest stadiums, amphitheaters and arenas. Tickets for select shows on the 24-city run with special guests Thomas Rhett and A Thousand Horses go on-sale next Friday, Oct. 23 at JasonAldean.com and LiveNation.com. Additionally, next spring Aldean will make his first-ever trip to Australia where he'll also play a string of headlining tour dates.
"This song pretty much sums up how I feel like me and my fans live our lives," said Aldean. "That same excitement is what we feel out there on the road every night, which made it a great name for next year's tour. It was pretty cool that we could bring that vibe to the music video too by shooting it back in Macon with a ton of people from my hometown. Getting back there and on that high school football field really reminded me of that rush of just living life without any regrets."
The CMA nominee simultaneously releases the official music video for his Top 15 single from which the new tour drew its name. Directed by Shaun Silva, the spirited video for "Gonna Know You Were Here" takes Aldean back to his stomping grounds in Macon, GA. To watch the video on Yahoo click HERE.
JASON ALDEAN: WE WERE HERE 2016 TOUR Dates:
1/14/16       Moline, IL
1/15/16       Evansville, IN
1/16/16       Bloomington, IL
1/17/16       Bloomington, IL
1/21/16       Des Moines, IA
1/22/16       Omaha, NE
1/23/16       Springfield, MO
1/28/16       Grand Forks, ND
1/29/16       Bismarck, ND
1/30/16       Sioux Falls, SD
2/04/16       Southaven, MS
2/05/16       Oklahoma City, OK
2/06/16       Columbia, MO
2/18/16       Roanoke, VA
2/19/16       Charlottesville, VA
2/20/16       Fayetteville, NC
2/25/16       Manchester, NH
2/26/16       State College, PA
2/27/16       Atlantic City, NJ
3/08/16       Melbourne, AU*
3/09/16       Sydney, AU*
3/12/16       Willowbank, AU*
4/28/16       Portland, ME
4/29/16       Uncasville, CT
4/30/16       Uncasville, CT
5/05/16       Erie, PA
5/06/16       Allentown, PA
*Dates do not include Thomas Rhett and A Thousand Horses
Aldean will wrap his 2015 BURN IT DOWN TOUR next weekend, which has been praised by critics all year-long as he "ushers in the era of the new country star; he's equal parts rock star, sensitive balladeer and wild-eyed backroads guide" (Billboard). Capacity crowds and triumphant stadium shows have been a common denominator as fans "loved it from start to finish" (Toronto Sun) and were "burned by fiery guitar licks and Aldean's brand of smoking hot country" (Arizona Republic). The three-time and reigning ACM "Male Vocalist of the Year" will close out the tour on Oct. 24 in West Palm Beach with his 10th Annual "Concert For The Cure" where a portion of they year's ticket sales will be donated to Susan G. Komen South Florida. Aldean has sold more than 10 million albums, with each release being certified PLATINUM or better. His "most ambitious album to date" (Associated Press) OLD BOOTS NEW DIRT was the first country album released and certified PLATINUM in 2014 and has yielded three consecutive No. ones marking Aldean's 16th career chart-topper. It is currently nominated for "Album of the Year" at the approaching CMA Awards as well as "Favorite Country Album" at the upcoming AMA's where he also nabbed a "Favorite Country Male Artist" nod.
PLATINUM-selling Thomas Rhett leads the pack as one of country music's elite new artists with four consecutive No. one hits leading into his new single "Die A Happy Man" off his recently released sophomore album, TANGLED UP. Rolling Stone notes "he's discovered the artist he was always meant to be," as the new music follows his debut album IT GOES LIKE THIS (The Valory Music Co.), which spawned three chart-toppers hits, making him Billboard's first male country artist to do so from a debut album in over two decades. Initially garnering attention as a gifted songwriter with credits including hits by Florida Georgia Line, Jason Aldean and Lee Brice, it is his "high-energy all the way" (El Paso Times) live show that has "the audience dancing all the way up in the rafters of the stadium" (Billboard) that continues to catch the attention of critics out on the road.
A Thousand Horses is a fresh fusion of classic sounds – a hybrid of Lynyrd Skynyrd, the Allman Brothers, Black Crowes and Exile on Main Street-era Rolling Stones – wrapped up in a modern-country context. Their first single "Smoke" went to No. one after making Country Aircheck history as the highest debut for a new artist's first single and becoming the first band to send a debut single to No. one on Billboard Country Airplay Chart this decade. The band initially gained momentum playing clubs across the South with Rolling Stone Country hailing the foursome as the Best Up-and-Comer at 2014's Austin City Limits, and USA Today named them one of 2015's Artists to Watch and an On the Verge Artist. Their first album on the Big Machine Label Group, Southernality, is now available on iTunes and the second single from the album, "(This Ain't No) Drunk Dial" is currently making its way up the Country charts.
For more information and for a full list of upcoming tour dates, visit www.jasonaldean.com.
###