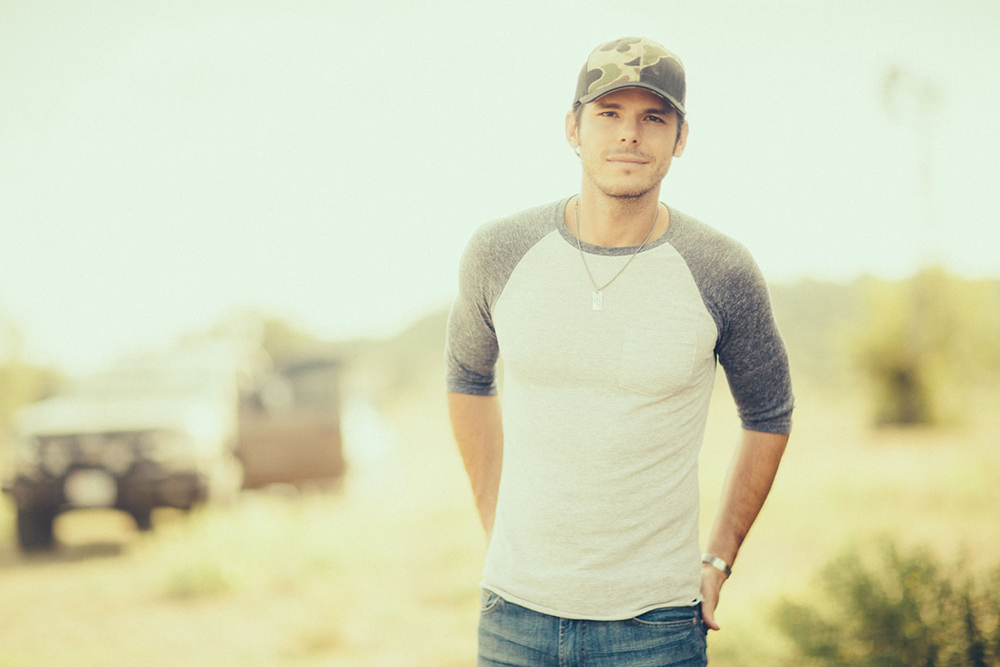 GRANGER SMITH NAMED IHEARTCOUNTRY "ON THE VERGE" ARTIST
NASHVILLE, Tenn. (October 15, 2015) – Following the wildly successful radio impact for "Backroad Song" last week, BBR Music Group's Wheelhouse Records artist Granger Smith has been tapped as an iHeartCountry "On The Verge" artist. The program heavily spotlights up-and-coming artists nationwide that iHeartMedia programmers are excited about and know their listeners will love.
iHeartMedia has been an early and passionate supporter of Granger and is committed to exposing him to a larger audience. The initiative launches today in support of the Granger and Frank Rogers co-produced single. The six-week program includes on-air exposure as well as significant digital and social support across iHeartMedia's network of Country radio stations and websites.  The program is based on key tracks and artists that iHeartMedia's programmers are collectively passionate about and has proven instrumental in the development of such successful and highly credible emerging artists including Sam Hunt.
As the Morning Hangover recently stated, "Granger Smith is a force of nature who is building a vocal, broad and incredibly passionate following." This is certainly translating at country radio, as "Backroad Song" has earned 89 total station adds (over 53% of the combined reporting panel), making Granger the #2 most added artist at country radio for two consecutive weeks, an incredibly impressive feat for a newly-signed act.
With the forecast bright, Granger continues his nationwide trek throughout every corner of the country visiting his "Yee Yee Nation." In addition to his continued allegiance to touring, Granger is simultaneously visiting radio stations around the U.S. Last week, Granger also visited the CBS Sports Network studio in New York City to make an appearance on "Inside College Football," where his notorious alter ego Earl Dibbles Jr. has a weekly segment. Click HERE to watch Granger live in the studio.
Granger Smith tour dates:
10/15 – Heart of Texas Fair – Waco, TX
10/16 – Wolf Pen Creek Amphitheater – College Station, TX
10/22 – Jefferson Theater – Charlottesville, VA
10/23 – Coyote Joes – Charlotte, NC
10/24 – Blind Horse Saloon – Greenville, SC
10/25 – Charleston Music Hall – Charleston, SC
10/29 – Midnight Rodeo – Mobile, AL
10/30 – Kleman Plaza – Tallahassee, FL
10/31 – Joyland IV – Bradenton, FL
11/6 – Diamond Ballroom – Oklahoma City, OK
11/7 – Revolution! Music Room – Little Rock, AR
11/12 – The Intersection – Grand Rapids, MI
11/13 – St. Andrews Hall – Detroit, MI
11/14 – Boondocks – Springfield, IL
11/20 – 3rd & Lindsley – Nashville, TN
11/21 – East Carolina University – Greenville, NC
11/22 – Iron City – Birmingham, AL
ABOUT GRANGER SMITH
Country music's Granger Smith is the flagship artist, along with Trace Adkins, of BBR Music Group's newest imprint, Wheelhouse Records. With sold-out national tours, a social media following of more than four million, and YouTube views exceeding 35 million, Granger Smith has amassed a rabid audience, while building a truly groundbreaking career. Granger's current EP, 4×4, is co-produced by Granger Smith and Frank Rogers (Brad Paisley, Darius Rucker and Josh Turner). The lead single off the EP, "Backroad Song," sold over 32,000 downloads in its first week of release and entered the iTunes Country Singles chart at Number Two, the iTunes Canada Country Chart at Number One and the Billboard Country Digital Sales Chart at Number Four. "Backroad Song" earned 62 total first week stations making Granger the #2 most added artist at country radio the week of impact. His "YEE YEE NATION" national tour (84 shows) sold out and broke attendance records and merchandise sales records at nearly every venue. Granger's country boy alter-ego, Earl Dibbles Jr., has its own following and garnered him a weekly segment called "Dip 'Em and Pick 'Em" on CBS Sports Network's Inside College Football. Season three premiered in September.
For more information on Granger's tour and updates please visit:
www.facebook.com/EarlDibblesJr
About iHeartMedia
With 245 million monthly listeners in the U.S., 87 million monthly digital uniques, over 75 million social followers and 196 million monthly consumers of its Total Traffic and Weather Network, iHeartMedia has the largest reach of any radio or television outlet in America. It serves over 150 markets through 858 owned radio stations, and the company's radio stations and content can be heard on AM/FM, HD digital radio, satellite radio, on the Internet at iHeartRadio.com and on the company's radio station websites, on the iHeartRadio mobile app, in enhanced auto dashes, on tablets and smartphones, and on gaming consoles. iHeartRadio, iHeartMedia's digital radio platform, is the No. 1 all-in-one digital audio service with over 700 million downloads; it reached its first 20 million registered users faster than any digital service in Internet history and reached 70 million users faster than any other radio or digital music service and even faster than Facebook.  The company's operations include radio broadcasting, online, mobile, digital and social media, live concerts and events, syndication, music research services and independent media representation. iHeartMedia is a division of iHeartMedia, Inc. (OTCBB: IHRT). Visit iHeartMedia.com for more company information.
# # #