GRAMMY-Winning Hit Songwriter VICKY MCGEHEE Signs Publishing Deal with BBR Music Group's Magic Mustang Music
NASHVILLE, TN (August 4, 2015) – BBR Music Group is pleased to announce the signing of Vicky McGehee to its Magic Mustang Music publishing roster.
Among her many hits, McGehee penned GRAMMY and BMI Pop Award-winning smash "Like We Never Loved At All" for Tim McGraw and Faith Hill. She scored her first #1 hit with Jason Aldean's "Why" and wrote Aldean's breakthrough hit "Hicktown" and "Johnny Cash."
McGehee was named MusicRow's "Breakthrough Songwriter of the Year" in 2006 and only one year later BMI awarded her their highest honor of "Songwriter of the Year." She also earned eleven "Top 50 Played Songs of the Year" awards from BMI and received eight "BMI Millionaire Awards." Over the course of her career, McGehee has earned several GRAMMY, CMA, ACM and CMT award nominations.
"Vicky is an amazing talent," says Juli Newton-Griffith, VP of Publishing for Magic Mustang Music. "She is truly one of a kind and I am so happy to have her join our family! Feel like she has been a part all along!"
The talented songwriter also wrote Top 15 smash "Holy Water" for Big & Rich and 14 songs on Gretchen Wilson's first three albums including theGOLD-certified hit "All Jacked Up." McGehee scored #1 hits with Randy Houser's "How Country Feels" and Toby Keith's "God Love Her." She co-wrote Craig Campbell's current single "Tomorrow Tonight" and has cuts by Kenny Chesney, Lee Brice, Tyler Farr, Thompson Square, Alan Jackson, Reba McEntire, Gary Allan, Montgomery Gentry, John Anderson, Randy Owen and many more.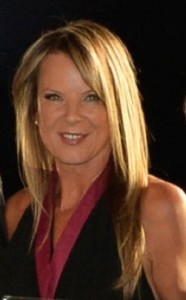 "I've been blessed in my career to have worked and written with some of the most amazing people in the music business. I still wake up every morning and thank God for giving me another day to do what I love," shares McGehee. "We never know what tomorrow brings but today I feel like I have been blessed again by signing with a company that is not only leading the industry but one I truly consider Family. Thank you Benny Brown, Juli Griffith, Jon Loba, Paul Brown, Colton McGee. Let's do this!"
McGehee is a BMI songwriter. Magic Mustang Music is administered by Warner Chappell.
Photos Courtesy of BBR Music Group.
ABOUT MAGIC MUSTANG MUSIC:
A division of BBR Music Group, Magic Mustang Music is an independent music publishing company based in Nashville, TN. Magic Mustang Music represents songwriters Jason Aldean, Kurt Allison, Steve Bogard, Westin Davis, Brooke Eden, Lindsay Ell, David Fanning, Rob Hatch, Tully Kennedy, Justin Lantz, Dave Pittenger, Thompson Square, Justin Wilson, Craig Campbell and Jason Vanover.
Magic Mustang Music has been honored as SESAC's Publisher of the Year for the past two consecutive years.
For more information visit, www.magicmustang.com
About BBR Music Group:
Founded by President/ CEO Benny Brown in 1997, the BBR Music Group has grown from a fledgling independent label into the largest independent Country label group in the United States whose umbrella now includes Broken Bow Records, Stoney Creek Records, RED BOW Records, BBR Management and publishing company Magic Mustang Music. With a roster of talented artists that includes the RIAA's #1 digital selling male Country artist of all time Jason Aldean, #1 chart-topper Dustin Lynch, Kristy Lee Cook and newcomers Jackie Lee and Jordan Rager, BROKEN BOW RECORDS continues to make a name for itself in the Country music industry. Founded in March 2009 as a continuation of the passion and determination that spawned the success of Broken Bow, STONEY CREEK RECORDS boasts a roster which includes 2x ACM and 2012 CMA "Vocal Duo of the Year" and GRAMMY nominees Thompson Square; #1 chart-toppers Randy Houser and Parmalee as well as one of CMT's Next Women of Country Lindsay Ell. RED BOW RECORDS, in partnership with the country's largest independent distributor RED Distribution, a Division of Sony, was founded in October 2012 and boasts an artist roster of 4x GRAMMY nominee and CMA and ACM award winner Joe Nichols, hit-maker Craig Campbell and hot Country newcomers Chase Bryant, Brooke Eden and David Fanning. The BBR Music Group label roster also includes multimedia superstar Trace Adkins.
The BBR Music Group is headquartered in Nashville, TN and is distributed by Sony RED. http://www.bbrmusicgroup.com
# # #