Dustin Lynch Unveils Exclusive Spotify Sessions Performance Live from the Spotify Offices in NYC
Rising Star Takes Over VEVO TV Nashville This Week #VEVONashville
New Single "Mind Reader" Impacts Country Radio On Sept. 28th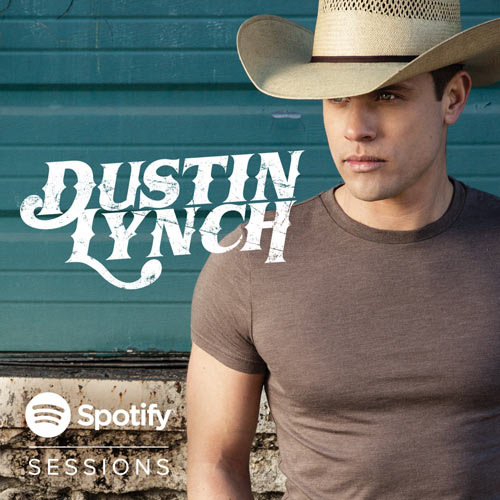 NASHVILLE, TN (September 17, 2015) – Dominating Spotify with a tally of over 70 million streams to date, Broken Bow Records' Dustin Lynch has joined forces with the streaming partner to bring fans a performance session, recorded live from the Spotify offices in New York City. The exclusive session features acoustic versions of select songs from his latest album WHERE IT'S AT, including new single "Mind Reader" and a fresh cover of Drake's "Hold On, We're Going Home," along with commentary from Lynch on each song.
Listen to Lynch's Spotify Sessions here: http://geni.us/dlspotifysessions
Opening the session is "Mind Reader" which will impact Country radio on September 28 and follows back-to back #1 smashes "Hell Of A Night" and the PLATINUM-certified, multi-week #1 "Where It's At."
Dustin Lynch Live from Spotify NYC Track Listing:
1. "Mind Reader" (Intro)
2. "Mind Reader"
3. "Sing It To Me" (Intro)
4. "Sing It To Me"
5. "Middle of Nowhere" (Intro)
6. "Middle of Nowhere"
7. "Where It's At" (Intro)
8. "Where It's At"
9. "Your Daddy's Boots" (Intro)
10. "Your Daddy's Boots"
11. "Hold On, We're Going Home" (Intro)
12. "Hold On, We're Going Home"
Lynch is the latest star to host the weekly VEVO Nashville Takeover on VEVO TV. The chart-topper discusses his favorite music videos with fans via the video platform giant, sharing videos that both moved and inspired him as an artist.
Lynch's VEVO Nashville Takeover premiered earlier this week with re-airs today, Thursday (9/17) at 6pm and 10pm ET. Fans can watch the VEVO Nashville Takeover live here: vevo.com/tv/3.
Anointed Luke Bryan's "possible heir apparent" by ROLLING STONE, Lynch is aptly touring nationwide with Luke Bryan's 2015 KICK THE DUST UP TOUR and will embark on his headlining HELL OF A NIGHT TOUR in November. Boasting advance sellouts in select markets; the nationwide tour covers 35+ cities, including major stops in New York City, Boston, Houston and New Orleans, and features special guest Big Loud Records' Chris Lane.
Since releasing his PLATINUM debut single, "Cowboys And Angels," Lynch has catapulted onto the country music scene. Racking up over 35 million views on YouTube/VEVO, notching 70 million plus streams on Spotify, soaring to #1 on the MTV Music Meter and selling 2.7 million digital singles, he brings a fresh combination of traditional influences and edgy intensity to the genre. Producers Mickey Jack Cones, Brett Beavers and Luke Wooten showcase his progressive sound throughout his sophomore album, WHERE IT'S AT (Broken Bow Records), which debuted at #1 on the iTunes Country Albums Chart upon release and has tallied over 1 million tracks sold to date.
For more information, visit DustinLynchMusic.com.
###