CRAIG MORGAN REUNITES WITH BBR MUSIC GROUP FOR "THE FATHER, MY SON, AND THE HOLY GHOST" 
Blake Shelton Kickstarts Social Campaign, Taking Powerful Track To No. 1 on iTunes Top Songs Chart All Genres
Nashville, TN — September 16, 2019 — Country music entertainer, TV host and Army veteran Craig Morgan is reuniting with BBR Music Group's flagship label Broken Bow Records, his record label home for more than six years, on his first new music since 2016, the faith-filled tribute to his son Jerry — "The Father, My Son, And The Holy Ghost."  The  emotional track, which has over xxx  views and counting, made national news last week, hitting No. 1 on iTunes All Genres Top Songs chart in addition to the Top Country Songs chart. Longtime friend and fellow Opry member, Blake Shelton, kickstarted the ascent, launching an unprecedented twitter campaign in support of the song he says he would "gladly give up (his) spot on country radio for." The viral push, led by Blake, gained support from several other artists and celebrities including Blanco Brown, Kelly Clarkson, Luke Combs, Carson Daly, Ellen DeGeneres, Charles Esten, Larry The Cable Guy, Angie Harmon, Gwen Stefani, Cole Swindell, The Today Show and more.  The song is being sent to country radio today.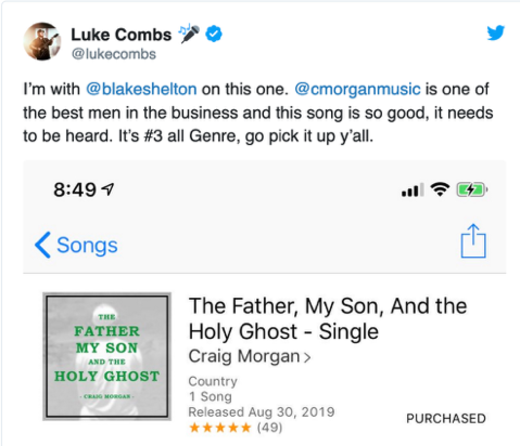 Craig was signed to BBR Music Group from 2002 to 2008 where he delivered signature songs including "Almost Home," "International Harvester," "Redneck Yacht Club," "Tough" and the 4-week Billboard Hot Country Songs chart topper, "That's What I Love About Sunday."
"Craig Morgan and BBR made history together with 'Almost Home', notching the first Top 10 for both," says Jon Loba, EVP BBR Music Group.  "He is once again making his mark in music with the heartfelt song 'The Father, My Son, and The Holy Ghost' inspired by his late son Jerry.  Our hearts are overflowing with joy that he has chosen to work with us once again as we welcome him home to the BBR/BMG family."
"I am truly humbled by the response to the song so far and to my friend Blake Shelton for what he has done to honor Jerry," says Craig. "It's incredible to reunite with the team at Broken Bow to share this song with radio and my hope is, it will be a help to those who need it most."
Listen to "The Father, My Son, And The Holy Ghost" on numerous playlists including Apple Music's Breaking Country, Pandora's New Country Now, Spotify's New Traditions: Country Heroes and YouTube's Country's New Crop plus Billboard's "First Country" selections and Rolling Stone Country's "10 Best Country Songs To Hear Now."
About Craig Morgan: A multi-faceted entertainer, Craig Morgan has made a name for himself as a country music icon, TV personality, celebrated outdoorsman and patriotic Army veteran. One of country music's best-loved artists, Morgan has charted 25 songs on Billboard and thrills massive crowds with signature hits including "Bonfire," Almost Home," "Redneck Yacht Club," "International Harvester," "This Ole Boy," "Wake Up Loving You" and the four week #1, "That's What I Love About Sunday."
Craig received one of country music's highest honors when he was inducted as a member of the Grand Ole Opry in 2008. Prior to becoming a country music star and TV sensation, Morgan spent seventeen years serving our country in the Army and Army Reserves. Morgan remains an avid supporter of America's military personnel and has made 16 overseas trips to perform for our troops. He is a recipient of the 2006 USO Merit Award and in 2018 was awarded the Army's Outstanding Civilian Service Medal, one of the highest awards the Department of the Army can bestow upon a civilian, in recognition of his significant dedication to our military men and women around the world.
In 2017 Craig debuted The Gallery at Morgan Farms, a family-owned and operated farm-to-home business in his hometown of Dickson, TN. The store features a variety of artisan items handmade by Craig and his family.
Engage with Craig on Facebook, Instagram and Twitter and see a list of upcoming tour dates at craigmorgan.com.
# # #