COUNTRY MUSIC TRIO RUNAWAY JUNE DELIVERS BEAUTIFUL CHRISTMAS PERFORMANCE TO ARMED FORCES AROUND THE WORLD
"When I Think About Christmas With Runaway June" Virtual Performance for Armed Forces Entertainment Available to Military Around the Globe Watch Here
 "Cracker Barrel Sounds of the Season" Holiday Feature with Runaway June, Carrie Underwood, and Maddie & Tae to Debut Wednesday, December 16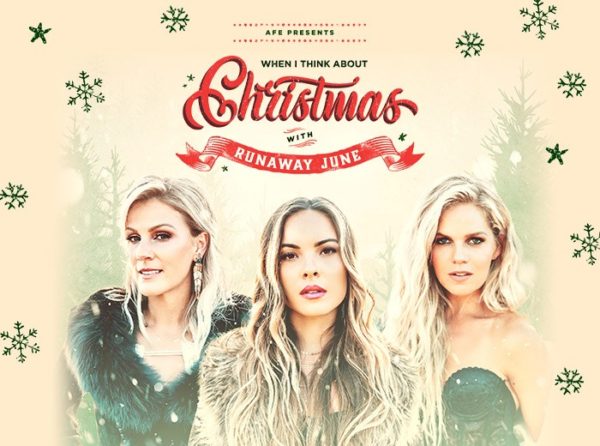 Country trio Runaway June has been on a mission to spread holiday cheer with their music and their genuine excitement for the season starting with their debut Christmas EP When I Think About Christmas, that was released on October 16. The trio has hardly had a chance to sit down since the release of this EP that Nashville Lifestyles claims "Runaway June—Naomi Cooke, Jennifer Wayne, and [Natalie] Stovall—bridge modern music with the proud tradition of country. That sensibility is especially clear on the trio's holiday EP, When I Think About Christmas."
Today, Armed Forces Entertainment (AFE) premiered their first ever virtual concert called When I Think About Christmas With Runaway June on the AFE YouTube Channel. This performance has been made available to every service member around the globe during this holiday season. Unfortunately, the armed forces deployed overseas are unable to come home for the holidays this year because of COVID restrictions, so it was important to Runaway June and AFE to brighten spirits with music from Runaway June's Christmas EP in addition to other Runaway June originals! The virtual holiday concert is intended to boost morale for military families during this important time of the year to let them know how much Americans appreciate their sacrifices. The performance is available exclusively on the Armed Forces Entertainment YouTube Page now. Watch HERE.
Runaway June is also teaming up with Cracker Barrel for a Christmas feature called "Cracker Barrel Sounds of the Season" alongside Carrie Underwood and Maddie & Tae. Continuing Cracker Barrel's commitment to women in Country music, the family-friendly Christmas event will be released on December 16th on Cracker Barrel's YouTube and Facebook pages with the all-female lineup and will be available throughout the holiday season. This campaign has been very special to Runaway June as they share how they are continuing their favorite traditions with loved ones and perform their favorite Christmas songs.
In addition to these unique campaigns, Runaway June partnered with CMT's Radio Team and Seacrest Studio for a "virtual holiday party" for participating children's hospitals across the country that are part of the Seacrest Network. The trio will also join Dolly Parton this month to participate in the Jingle Challenge for Monroe Carell Jr. Children's Hospital at Vanderbilt along with other Nashville artists with the goal of 10,000 holiday messages to children and staff at the Nashville children's hospital.
Runaway June is also set to perform at theTennessee Titans' half-time show next weekend.
All of these opportunities show Runaway June's relatability and relevance as they're making their mark in the Country music genre. Their current single "We Were Rich," is currently in the Top 40  and continues to climb Country charts. American Songwriter claims the single is a "stunning piece of lyrical prose that harkens back to simpler times and a song that could easily find a home on any holiday station." "We Were Rich" came shortly after the trio made history with their record breaking single "Buy My Own Drinks" that marked the first time a female trio has broken into the top five on the Mediabase Country chart since The Chicks in 2003. According to Music Row, "I don't know which I like better, the deliciously well written lyric or the breath-taking harmony-vocal perfection. I fell hard for this little slice of American life."  With their current single mixed with these Christmas originals and classics, Runaway June has made it a mission to trigger a warm sense of nostalgia. "We Were Rich" is a subtle reminder during this time of chaos in the world that it is the little things in life that matter most while these Christmas songs are a nod to Christmas traditions and holiday spirit.