People Country Goes Behind the Scenes with Runaway June &
Leading Man Luke Pell (from The Bachelorette)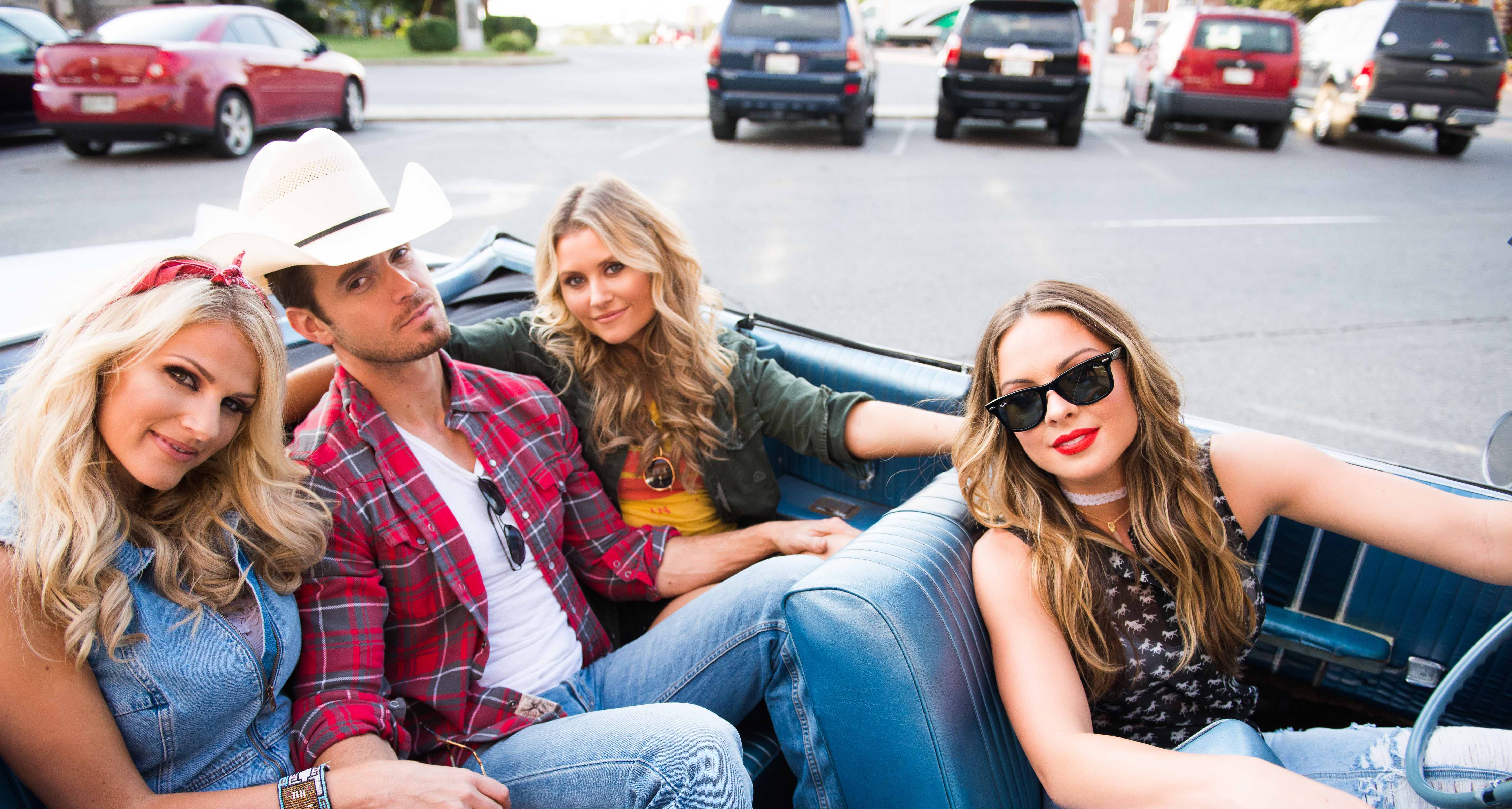 PHOTO BY: Ford Fairchild
(Pictured Left to Right: Runaway June's Jennifer Wayne; Luke Pell; Runaway June's Hannah Mulholland and Naomi Cooke)
Nashville, TN (November 11, 2016) ~ Just last week, the red hot ladies of Wheelhouse Records' Runaway June were named a CMT's Next Women of Country act for 2017. This weekend (11/12 and 11/13), CMT Hot 20 Countdown will give fans the "First Look" of the celebrated trio's music video for its debut hit single "Lipstick."
Directed by Peter Zavadil (Dustin Lynch's "Cowboys and Angels"), the throwback-style video features the ladies of Runaway June embarking upon a Thelma & Louise-style, cross-country road trip where the trio picks up a handsome stranger, played by Luke Pell from ABC's The Bachelorette.
In an exclusive video feature, People Country takes fans behind-the-scenes of the eye-popping, fun-loving video, centered around the song's core message of finding a man "who ruins your lipstick, not your mascara."
"We wanted something carefree, about having fun with no worries and finding someone who makes you happy," Runaway June explained to People Country. "That Thelma & Louise vibe fit in with it, and Luke was more than perfect for that. He's not really a love interest, per se, but more of a drifter we pick up and go on an epic adventure with."
Fans can tune in to CMT Hot 20 Countdown this Saturday (11/12) and Sunday (11/13) at 9am ET/ 8am CT each day to get a "First Look" at the official "Lipstick" music video and also watch at: http://www.cmt.com/artists/runaway-june/ 
"Lipstick" will be available across all CMT platforms including on-broadcast, on CMT Music and at http://www.cmt.com/artists/runaway-june/ on Sunday (11/13).
The premiere of "Lipstick" is the latest in a series of November notables for Runaway June. Just last week, the trendsetting trio was named a 2017 CMT Next Women of Country act, one of Pandora's "Country Artists to Watch in 2017" and one of Rolling Stone's "10 Country Artists You Need to Know."  Last, but certainly not least, Runaway June was chosen by Carrie Underwood to be the star's background vocal group during her sizzling performance of "Dirty Laundry" at the 50th Annual CMA Awards.
Produced by Mickey Jack Cones (Dustin Lynch, Joe Nichols), the sassy and swaggering "Lipstick" is a Top 40 hit and rising – making Runaway June the first female trio in a DECADE to earn a Top 40 hit on the Mediabase Country Airplay Chart.
Purchase "Lipstick" here: http://geni.us/rjlipstick
Stream "Lipstick" here: http://smarturl.it/streamlipstick