Forthcoming Album I Hate Cowboys & All Dogs Go To Hell Set for Release February 10  
"I Hate Cowboys" Available Everywhere
This Friday, January 6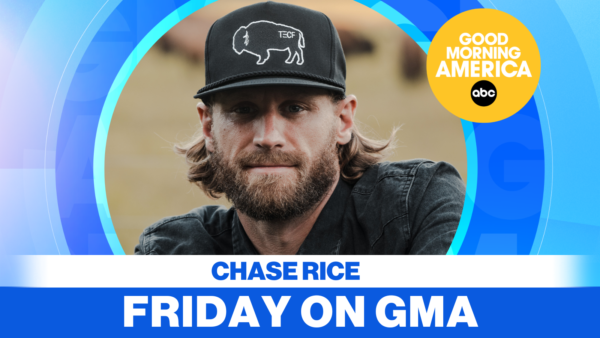 One of the few contemporary Diamond-certified songwriting cardholders, Chase Rice is set to kick off the new year with brand new music, joining "Good Morning America" this Friday, Jan. 6, for a performance of "I Hate Cowboys." Tune in to ABC during the 8 a.m. ET hour for this live debut of one of the two title tracks on Rice's forthcoming album, I Hate Cowboys & All Dogs Go To Hell, set for release February 10.
In addition to the live performance airing this Friday, "I Hate Cowboys" will also be available everywhere that day along with an official music video that tributes the iconic history of cowboy culture. Written by Rice alongside HARDY, Ross Copperman and Old Dominion's Brad Tursi, the song and corresponding visuals serve as a tongue-in-cheek ode to how effortlessly cool true cowboys really are.
"When you listen to the song you of course get that I don't actually hate cowboys – I'm really fortunate to call several of them great friends," emphasizes Rice. "But damn, doesn't it make you crazy when Mr. Steal Your Girl kicks open the door — with that hat and those Wranglers, and he can two-step better than you, talk cooler than you? 'I Hate Cowboys' is an ode to the fact that just like Taylor Sheridan writes in Yellowstone, if it were easier everyone would cowboy…hell, I wish I could!"
I Hate Cowboys & All Dogs Go To Hell ranges from emotional reckoning to this admiration of a Western way of life evidenced in the title track, and also includes recent releases "Key West & Colorado" and "Way Down Yonder" plus a reimagined album version of "If I Were Rock & Roll." Rice serves as a writer on all 13 tracks, including three solo writes, and the project honors his late father, Daniel Rice, with its cover art.
Rice will also bring the new music to fans on his headlining Way Down Yonder Tour this spring, visiting several iconic theaters such as Nashville's Ryman Auditorium, Boston's House of Blues and Athens' Georgia Theatre with special guests Avery Anna, Tyler Braden, Ashland Craft, Dalton Dover, Kameron Marlowe, Read Southall Band and Conner Smith across varying dates. Tickets are on sale now via ChaseRice.com.
For all the latest news on the forthcoming music and upcoming tour dates, visit ChaseRice.com.
I Hate Cowboys & All Dogs Go To Hell Track List:
1. Walk That Easy (Chase Rice, William Reames, Barton Davies, Jonathan Sherwood, Oscar Charles)
2. All Dogs Go To Hell (Chase Rice, Joshua Miller, John Byron)
3. Way Down Yonder (Chase Rice, Hunter Phelps, John Byron, Blake Pendergrass, Corey Crowder)
4. Key West & Colorado (Chase Rice, Brian Kelley, Corey Crowder, Blake Pendergrass, John Byron, Hunter Phelps)
5. Bench Seat (Chase Rice)
6. Life Part Of Livin' (Chase Rice)
7. Bad Day To Be A Cold Beer (Chase Rice, Blake Pendergrass, John Byron, Justin Thomas)
8. Oklahoma feat. Read Southall Band (Chase Rice, William Reames, Barton Davies, Jonathan Sherwood, Oscar Charles, Read Southall)
9. I Walk Alone (Chase Rice, Jaxson Free, Josh Hoge)
10. Sorry Momma (Chase Rice, Hunter Phelps, Ben Johnson)
11. If I Were Rock & Roll (Album Version) (Chase Rice)
12. Goodnight Nancy feat. Boy Named Banjo (Chase Rice, Oscar Charles, Barton Davies, William Reames, Jonathan Sherwood)
13. I Hate Cowboys (Chase Rice, Michael Hardy, Ross Copperman, Brad Tursi)