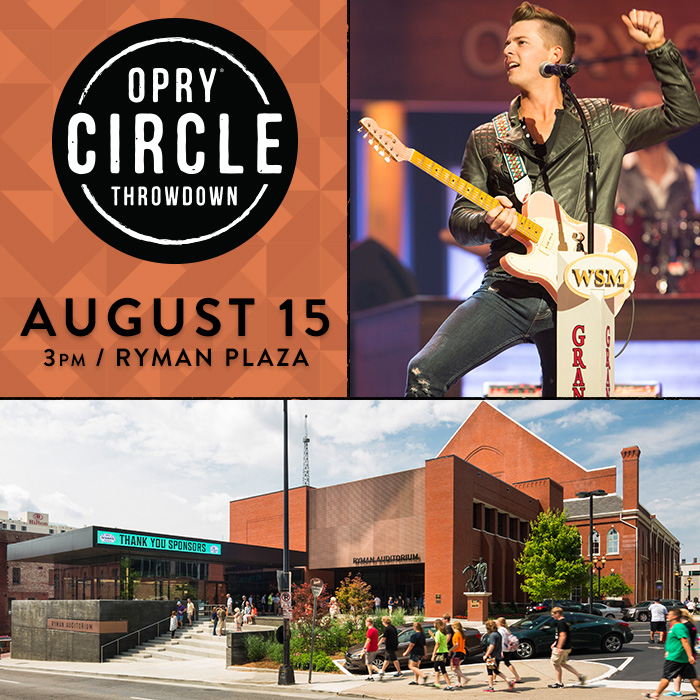 CHASE BRYANT Performs Free Opry 'Circle Throwdown' Set on Downtown Nashville's RYMAN PLAZA THIS SATURDAY (8/15) at 3 pm CT
NASHVILLE, TN — RED BOW Records' Chase Bryant is the latest Country star to perform an Opry "Circle Throwdown." Bryant joins the ranks of Trace Adkins, Kristian Bush, Nashville actor Charles Esten and more in celebrating the Grand Ole Opry's 90th Anniversary with both planned and impromptu performances for fans across the U.S. this year.
This Saturday (8/15), Bryant will perform acoustically on the Ryman Auditorium plaza in downtown Nashville at 3 pm CT, ahead of his opening slot as part of Tim McGraw's Shotgun Rider Tour at Bridgestone Arena that night.
As part of the "Circle Throwdown," a replica of the famed six-foot Opry Circle of wood cut from the Ryman stage and placed center stage at the Grand Ole Opry House will be placed on the Ryman Auditorium plaza. The Ryman Plaza is located at 4th Avenue South (between Broadway and Commerce St).
The performance is free and open to the public. For more information, visit: http://www.opry.com/circlethrowdown
Bryant's latest hit – the critically lauded "Little Bit of You" – continues to ascend the Country single charts, landing in the Top 35 on the Country Aircheck chart (powered by Mediabase) this week, also earning a 16% increase in single sales. "Little Bit of You" is at digital retailers now: http://geni.us/littlebitofyou
Bryant is also featured on OPRY 9.0, Vol 1: Discoveries From the Circle. The compilation includes memorable live Opry performances from next generation artists Chase Bryant, JT Hodges and Drake White. OPRY 9.0, Vol 1: Discoveries From the Circle is available at the Opry's four Nashville retail stores as well at Opry.com
ABOUT CHASE BRYANT:
One of the most celebrated new artists in today's Country music landscape, 22-year-old Chase Bryant was raised in Orange Grove, TX (pop. 1,200). Bryant's grandfather played piano for Roy Orbison and Waylon Jennings. His uncles co-founded the group Ricochet. Conway, Merle, Petty, Vince, Bob Wills, Steve Wariner, Bryan Adams and more were early influences as were records by Keith Urban, Sarah Buxton and Jedd Hughes.
Bryant's guitar-wielding Top 10 debut single "Take It On Back" has reached TWO MILLION combined views on YouTube/ VEVO, spent 15 consecutive weeks on the CMT Hot 20 Countdown, seven weeks to-date on the GAC Top 20 Country Countdown, and was a Top 20 Most Watched Video on VEVO TV Nashville. Internationally, the single was a Top 20 hit in Canada and earned the #1 spot on Australia's CMC Countdown. Bryant is currently criss crossing the U.S. on Tim McGraw's Shotgun Rider Tour. Bryant's debut EP, which he co-produced alongsideDerek George (Randy Houser), is available at digital retailers now. Buy it here:  http://geni.us/ChaseBryantEP
CHASE BRYANT LINKS & HASHTAGS:
#takeitonback
#TIOBTOUR
Twitter: @ChaseBryant
https://www.facebook.com/ChaseBryantMusic
http://instagram.com/iamchasebryant
For more information about Chase Bryant, visit: http://www.chasebryant.com
OPRY LINKS & HASHTAGS:
#Opry
#CircleThrowdown
Twitter & Instagram: @Opry
https://www.facebook.com/grandoleopry
http://www.opry.com
# # #