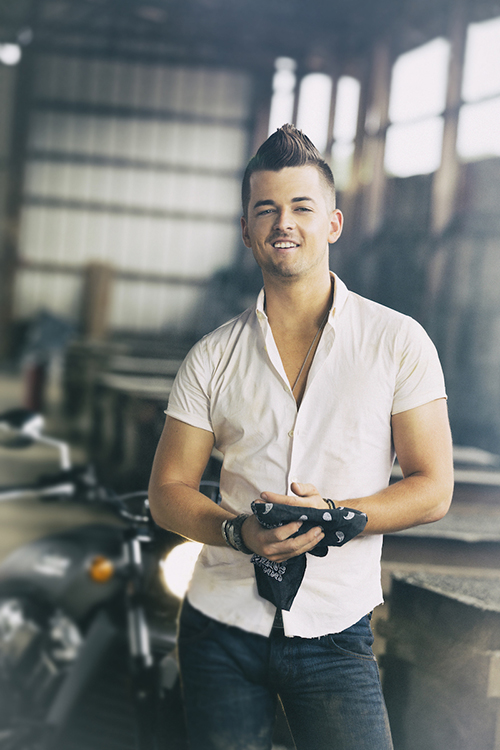 Building upon his landmark debut year, which earned RED BOW Records artist Chase Bryant the distinction of being one of only two male country solo artists to earn a Top 10 debut single, Bryant has announced initial tour dates for 2016. Charging out the gate in the New Year, Chase will route coast-to-coast bringing his critically lauded hit single "Little Bit Of You" to the masses.
Initial stops on Bryant's 2016 tour include a mixture of headlining dates as well as a special guest appearance on Kip Moore's Wild Ones Tour. Additionally, Chase is slated to perform at several major Country music festivals including Tortuga Music Festival in Ft. Lauderdale, FL, Country Jam USA in Grand Junction, CO and Country Thunder USA in Twin Lakes, WI amongst many others.
Known for his electrifying live performance layered with guitar shredding and a keyed up vocal delivery, Bryant recently wrapped an extended stint on Country superstar Tim McGraw's Shotgun Rider Tour. He also previously spent time on Brantley Gilbert's Let It Ride Tour.
"Performing live and feeling the energy of the fans has always been something that's fueled me," says Bryant. "I learned so much from watching Tim (McGraw) and Brantley (Gilbert) on stage and being a part of both national tours. Those incredible experiences and also performing over 200 dates this past year has amped up our live show in a big way. I can't wait to bring it to fans next year."
See below for an initial list of 2016 shows, both new and previously announced.  Additional dates will be announced soon. For the latest info on Chase Bryant visit: http://www.chasebryant.com
2016 CHASE BRYANT 2016 TOUR DATES:
1/15 – Schmitt's Saloon – Morgantown, WV
1/16 – Prospectors – Mt. Laurel, NJ
1/21 – Coyote Joe's – Shelby Township, MI
1/22 – The Bluestone – Columbus, OH
1/23 – Dusty Armadillo – Rootstown, OH
1/28 – The Eagles Ballroom – Milwaukee, WI *
1/29 – The Intersection – Grand Rapids, MI *
1/30 – Bogart's – Cincinnati, OH *
1/31 – Wolf Den @ Mohegan Sun – Uncasville, CT
2/4 – Hartman Arena – Park City, KS *
2/5 – Uptown Theatre – Kansas City, MO *
2/6 – 7 Flags Event Center – Clive, IA *
2/11 – Granada – Lawrence, KS
2/12 – Grizzly Rose – Denver, CO *
2/18 – Buck Owen's Crystal Palace – Bakersfield, CA
2/19 – The Brandin' Iron – San Bernardino, CA
4/7 – Country Thunder USA – Florence, AZ
4/17 – Tortuga Music Festival – Fort Lauderdale, FL
6/3 – Country Summer Festival – Santa Rosa, CA
6/16 – Country Jam USA – Grand Junction, CO
7/16 – Craven Country Jamboree – Craven, SK
7/21 – Country Thunder USA – Twin Lakes, WI
7/29 – Oregon Jamboree – Sweet Home, OR
7/30 – Sunfest Country – Duncan, BC
* Denotes Wild Ones Tour appearance
ABOUT CHASE BRYANT:
One of the most celebrated new artists in today's Country music landscape, 23-year-old Chase Bryant was raised in Orange Grove, TX (pop. 1,200). Bryant's grandfather played piano for Roy Orbison and Waylon Jennings. His uncles co-founded the group Ricochet. Conway, Merle, Petty, Vince, Bob Wills, Steve Wariner, Bryan Adams and more were early influences as were records by Keith Urban, Sarah Buxton and Jedd Hughes.
Bryant's guitar-wielding Top 10 debut single "Take It On Back" has reached THREE MILLION combined views on YouTube/ VEVO, spent 15 consecutive weeks on the CMT Hot 20 Countdown, seven weeks to-date on the GAC Top 20 Country Countdown, and was a Top 20 Most Watched Video on VEVO TV Nashville. Internationally, the single was a Top 20 hit in Canada and earned the #1 spot on Australia's CMC Countdown.
Hot off of Tim McGraw's 2015 Shotgun Rider Tour, Bryant has scored his second consecutive hit – the critically lauded "Little Bit of You" – continues to ascend the Country single charts. Bryant's debut EP, which he co-produced alongside Derek George (Randy Houser), is available at digital retailers now. Buy it here: http://geni.us/ChaseBryantEP
CHASE BRYANT LINKS & HASHTAGS:
Twitter: @ChaseBryant
https://www.facebook.com/ChaseBryantMusic
http://instagram.com/iamchasebryant
#          #          #