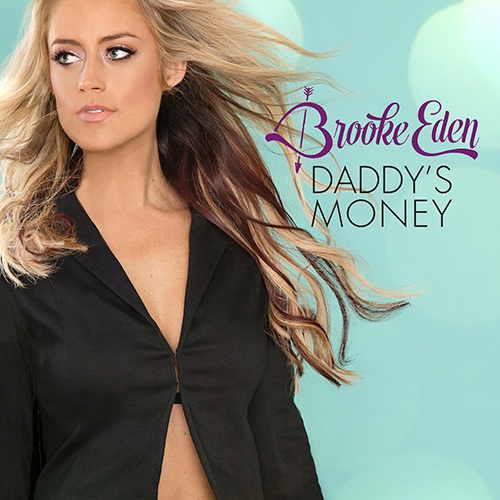 BROOKE EDEN "DADDY'S MONEY" 
DEBUT RED BOW RECORDS SINGLE TO IMPACT COUNTRY RADIO IN EARLY 2016
Fiery newcomer Brooke Eden's eagerly anticipated RED BOW Records debut single, "Daddy's Money," is available at all digital retailers and streaming services TODAY – Friday, Dec. 11. On the heels of an extensive nationwide radio tour, the song will impact U.S. Country radio in early 2016. "Daddy's Money" is available for purchase HERE.
Flexing her vocal prowess, the upbeat number resonates personally for the pint-sized powerhouse who grew up midway between the sands of West Palm Beach and the swamps of the Okeechobee. Co-written by Kallie North and Jessy Wilson of the Muddy Magnolias, the song is a keen nod to the hardworking mentality Eden's parents infused in her. "My parents never had a lot of money, but they made sure I had their support behind me: 'We can't buy your way in, but you can do it — you just have to work a little bit harder,'" says Brooke.
Recently honored as one of CMT's Next Women of Country and PEOPLE'S "Seven New Country Acts You Should Check Out," Eden has become one of Country music's most anticipated new acts. Building on her rapid momentum, the dynamic songstress is currently in the studio recording her full-length album debut. For the latest information on Brooke Eden visit: www.brookeeden.com

ABOUT BROOKE EDEN:
Named one of Vogue's "10 Country 'It' Girls of 2014" as well as "One to Watch in 2015" by both Country Weekly and Nashville Lifestyles, BBR Music Group artist Brooke Eden is quickly becoming one of Country music's most highly-anticipated newcomers.
The young Loxahatchee, Florida native came up the artist ranks by paying her dues, performing in clubs and learning the craft of songwriting from the tender age of four. Also recently named one of CMT's Next Women of Country, Eden has performed over 500 shows in four years, including opening for superstars such as Alan Jackson, Sugarland and Florida Georgia Line.
Her song "American Dreamin'" earned her critical acclaim after being chosen as a "Highway Find" on SiriusXM's The Highway. Eden is currently criss-crossing the U.S. on her first radio tour, promoting the release of her official debut Country single in early 2016. 
BROOKE EDEN LINKS:
Twitter: @BrookeEdenMusic
www.facebook.com/BrookeEdenMusic
www.instagram.com/BrookeEdenMusic
www.BrookeEden.com
#          #          #