PANEL PART OF "MUSIC MATTERS WITH RIAA" PARTNERSHIP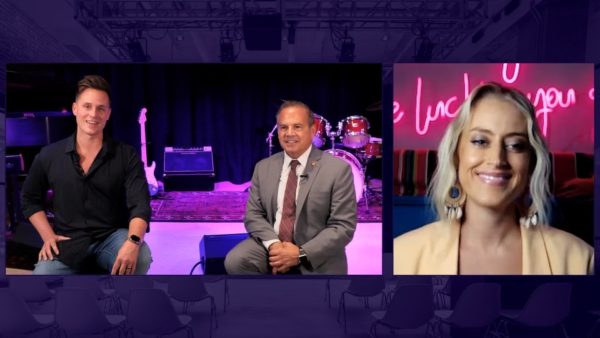 This week, vocal powerhouse Brooke Eden joined Congressman David Cicilline, Chair of the Congressional LGBTQ+ Equality Caucus, for a conversation surrounding LGBTQ+ equality and representation. Moderated by Tom Clees, VP, Federal Public Policy at RIAA, Brooke and Congressman Cicilline discussed a plethora of issues including the importance of the arts, the impact of representation in society and government, as well as some of the work the two are doing in their respective fields to further the conversation. Watch the conversation HERE.
"We're incredibly proud to partner with Brooke on the 'Music Matters with RIAA' program," says Jackie Jones, VP of Artist and Industry Relations at RIAA. "Bringing Brooke's powerful story out into the community and connecting artists and policymakers for authentic, honest moments is the perfect way to celebrate Pride and allow the worlds of music and politics to learn and grow together."
Eden and Congressman Cicilline dove deep into a number of topics during their nearly 20-minute conversation for the RIAA Pride Panel. The two discussed their own experiences discovering their true selves in less than welcoming situations, pointing to the things they learned and sharing how important it is to see other LGBTQ+ folks visibly succeeding. Brooke discussed how music allows her to tell her authentic story, and how her newest track "Left You For Me" is arguably the most honest chapter in that story to date. Brooke's conversation with Congressman Cicilline is part of her ongoing "Music Matters with RIAA" partnership.
In the first week of its release, the video for Brooke's latest song "Left You For Me" has been in steady rotation at CMT punctuated by an airing in Times Square. The track additionally has appeared on multiple playlists. Brooke's debut performance of "Left You For Me" took place at CMA Fest followed by an electric performance at the official Pride Pit Stop Presented by Soap & Glory in NYC. More recently, she just performed the inspiring track at NYC's Pride March and on NBC's Today.
Over the last few years, Country singer on the rise Brooke Eden has carved herself a space in Nashville and has become a force to be reckoned with. Heralded by Billboard as a 'fiery country star-in-the-making," Eden has used her personal journey to self-acceptance to create music that is both bold and passionate with the message that it is okay to be who you are. Her new song "Left You For Me," out now, is the first to release from her upcoming EP, Choosing You, dropping July 29th via BBR Music Group. Flexing her artistic muscle with unbridled joy stemming from living her authentic life, Eden's new music was produced with longtime collaborator Jesse Frasure (Thomas Rhett, Florida Georgia Like, Little Big Town). She has punctuated this message in the form of a partnership with the RIAA, an open-ended, multi-event-driven campaign designed to show how music can enable our authentic voice, give us purpose, connect us to each other, and give us strength and courage to navigate life's challenges. In 2021, Brooke came out and publicly embraced who she is as an LGBTQ+ artist. Since making her debut, Eden has shared stages with Country's biggest stars including Garth Brooks, Tim McGraw, Kane Brown and Keith Urban. Most recently, she made her ACM Awards performance debut, joining Parmalee and Blanco Brown for their platinum multinational No. 1 smash hit "Just the Way."