"The Git Up" Explodes Across the World Wide Web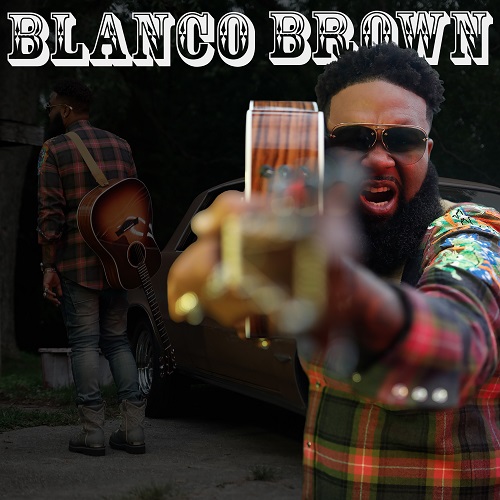 Today Blanco Brown, the genre-bending, once-in-a-generation artist and creative visionary debuts a brand new sound with the release of his self-titled debut EP. The songwriter, producer, vocalist, and multi-instrumentalist has created a new genus of music, which he affectionately calls "TrailerTrap." His music, inspired by his youth growing up in the projects in Atlanta and splitting his time in rural Georgia during the summers, draws upon the rawness and storytelling abilities of his two biggest musical influences, Johnny Cash and Outkast to seamlessly blend Country and hip-hop music. Listen to Blanco Brown everywhere digitally now.
"I've loved Country music since I can remember—it's what makes me happy," said Blanco Brown. "My Atlanta friends never quite understood my passion for it so when I started making my own music, I set out to blend the elements of Country that I love with the sounds I've been working with to represent who I am and what I listen to."
Blanco was signed to BBR Music Group/BMG in 2018 and in January was named one of Billboard's "7 Country Acts to Watch in 2019," noting "he is able to seamlessly knit multiple genres together, blending Tracy Lawrence, T-Pain, "Dixieland Delight" and The Beach Boys in a series of yet-to-be-released tracks. Real artists don't just break rules; sometimes they rewrite them."
"Some of the Country Music's biggest recent moments have come from collaborations between Country and Urban artists.  It's increasingly evident that fans simply don't live in just one genre anymore," said Jon Loba, EVP of BBR Music Group. "That sentiment embodies itself in Blanco Brown who is from Georgia, a place that is home to one of the epicenters of Urban music and incubator for some of Country's biggest stars.  It was only natural that those two communities would influence each other and eventually morph into a sound and genre drawing upon the best of both worlds. Like The Allman Brothers Band, Otis Redding, and Jason Aldean who came before, Blanco is part of  a rich Georgia tradition that not only bends genres but eventually defines them."
Blanco quickly gained attention across the internet after releasing his first solo project material with "The Git Up." The viral track was shared on April 26 via SoundCloud, along with a social video of Blanco performing the dance—which has since spawned more than 20 million views across all platforms. Users across the country have eagerly been sharing their own videos of the dance using #TheGitUpChallenge. The line dance track that Billboard said "is primed to make Blanco Brown the next trap country sensation."
While this is Blanco's first foray as an artist, he is a veteran in the industry, having produced top name artists like Fergie, Childish Gambino, Chris Brown and Kane Brown (to name a few)—he has also written songs for big names like Monica in addition to working as a background singer. The multi-talent who can write, sing, play multiple instruments (including, but not limited to, lap steel, spoons, harmonica and tambourine), dance, coach and produce has a unique gift of hearing colors when creating music and identifies the emotion of his songs through colors. For example, he sees "Georgia Power," a song about letting go of someone not right for you and getting yourself right, as both the lost/neutral emotion of both black and white as well the hopeful and energetic nature of yellow.
TRACK LISTING:
Ghett Ol Memories (Blanco Brown, Corey Marquez Stephens, Liby Vongmanee)
Georgia Power (Blanco Brown, Isaiah Brown, John Whitfield, Dominic Crawford)
Tn Whiskey (Blanco Brown)
CountryTime (Blanco Brown, Sam DiCesare, Abraham Abushmais)
Blanco Brown will celebrate the launch of his EP with live performances next week with several appearances at CMA Fest. He will perform at the Official Dee Jay Silver CMT Award Show After Party on Wednesday night, the Firestone Country Roads Stage at Ascend Amphitheater on Thursday night, the Nashville Acoustic Corner stage on Friday and he will appear at the Music Choice booth at Fan Fair X and hit the Radio Disney stage and Spotify's Ole Red stage on Saturday in addition to hosting a #GitUpChallenge at the Wildhorse Saloon at noon for fans.
Blanco Brown is booked by United Talent Agency. For more information, please visit www.BlancoBrown.com.